MAKING REUSE & REFILL MORE ACCESSIBLE
We want to make it easy for everyone to Refill and Reuse, and so we're working with innovators, infrastructure and fountain providers to make sure that wherever you are, whoever you are, single use plastic can become a thing of the past. 
These organisations make it possible to retain the convenience of take-away food and beverages, without unnecessary throw-away packaging. They do this by offering 'return on the go' or deposit systems for reusable packaging, whereby you return your used container at a designated & convenient drop off point to be cleaned and reused. 
Whether it's at a stadium, festival, market, or coffee shop – we now have a variety of amazing cost-effective solutions to single-use packaging that are helping people to ditch pointless packaging and embrace the refill and reuse revolution! 
leading the way in Reuse and Refill

We're working with a selection of key innovation partners, who are leading the way in making reuse and refill more accessible and affordable, breaking down some of the barriers and helping more people than ever live with less plastic!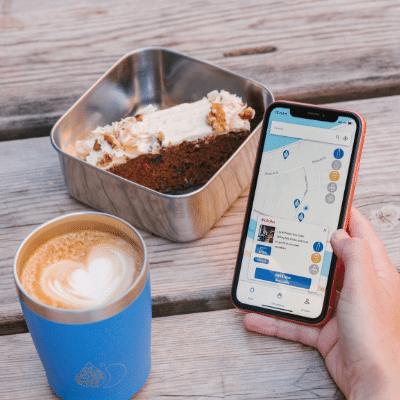 Bristol Refill Cup Scheme
We've teamed up with our friends at Ecosurety to announce a new 'Bristol Refill Cup Scheme'. This innovative new project will enable Bristolians to 'borrow' a reusable takeaway cup from a café and then return it to another participating outlet so it can be used again and again, reducing waste and tackling pollution and littering across the city. We're hoping that this will be live to use by Spring 2023.
REFILL & REUSE INNOVAT

O

RS

AND

SUPPLIERS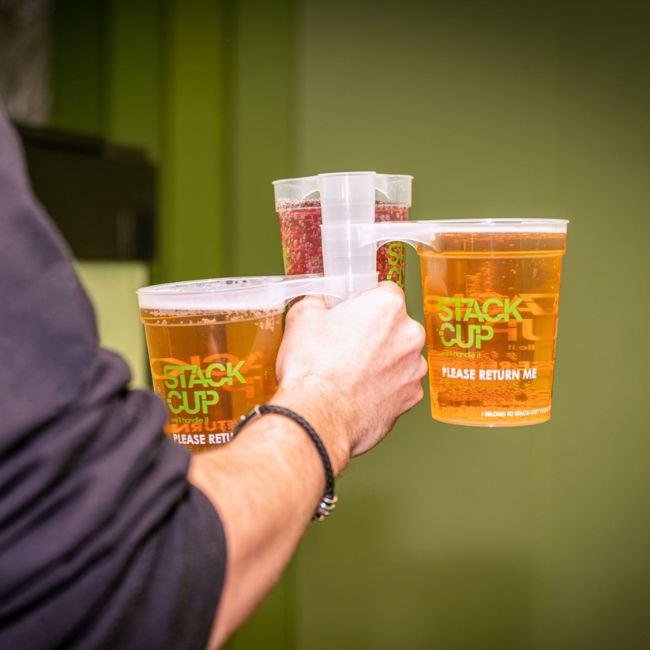 Stack Cup – Reusable Pint and Half-pint cups
A reusable cup scheme for stadiums, festivals and major events. STACK-CUP™ removes the need for cup carriers and trays, decreasing queue times and increasing bar spend. The unique handle on a STACK-CUP™ means you can carry multiple cups easily in one hand. The cups can be washed more than 300 times – perfect for reuse. Venues can hire the cups to trial/use for a one-off event or buy them for long-term use.
Tapping into water infrastructure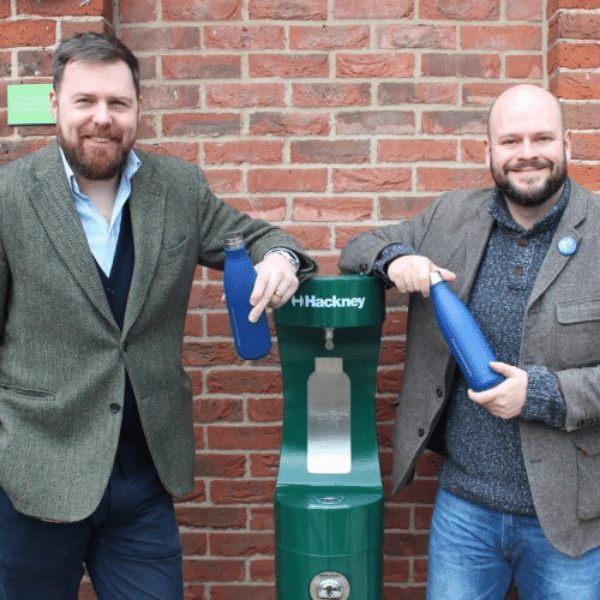 Are you a high footfall area for tourists and shoppers, or a sport or educational facility looking for hydration points for the public? If you're looking for a drinking fountain look no further than our national Refill Fountain Partner, Culligan (formerly MIW Water Coolers), the UK's leading provider of indoor, outdoor and contactless water bottle refill stations.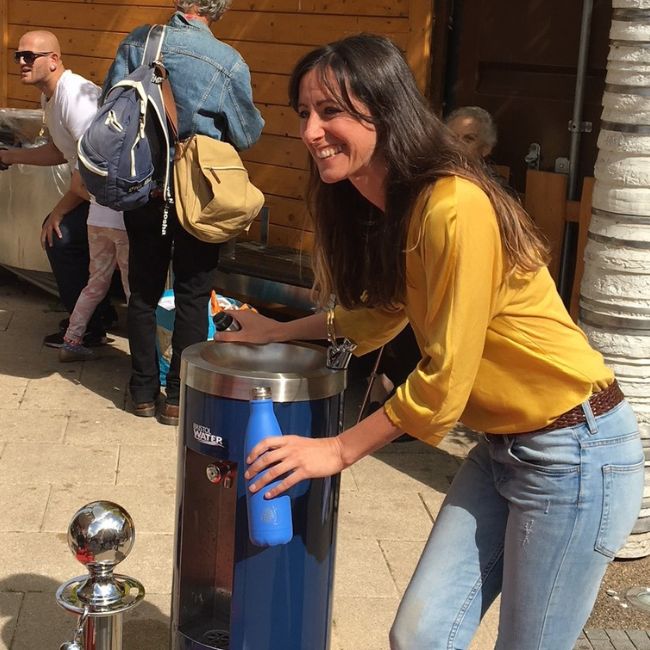 We joined forces with Water UK back in January 2018. The mission was to grow the Refill campaign from a grassroots scheme to a national movement.
And collectively, with all of our partners promoting Refill, we've prevented over 100 million plastic water bottles from entering our waste stream. So, you could say, it's been a flowing success.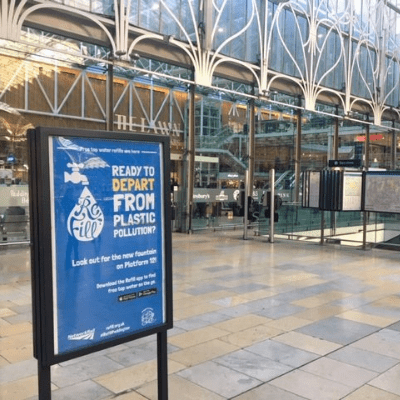 Are you ready to depart from plastic pollution? Well, thanks to our partnership with National Rail it's now much easier to Refill when you're passing through their stations.
We've worked with Culligan (formerly MIW) & National Rail to install water fountains across all Network Rail stations in the UK –  a move that saved more than 3 million plastic bottles!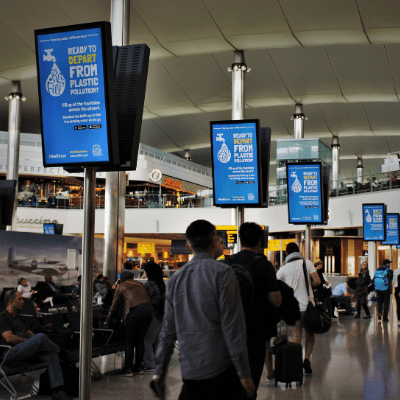 We're working hard to reduce plastic pollution in the UK is to work with transport hubs across the UK to allow anyone commuting or travelling access to free tap water. Through our strategic partnership back in 2020, Heathrow now has over 100 water fountains across the four terminals clearly sign-posted throughout and listed on the Refill app.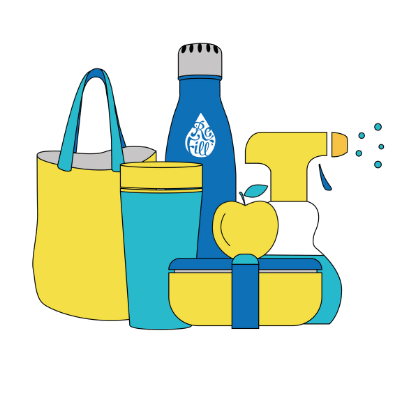 Takeaway Packaging
Is consistently in the top 10 most polluting items on beaches around the world.
Less than 10%
Of the plastic we've produced has been recycled.
300 million
Every year around the world we create more than 300 million tonnes of plastic – half of this is single-use use. 
1 million
Plastic bottles are sold every minute, around the world.
500 Billion
Coffee cups are used and thrown away each year around the world.
Get the latest Refill news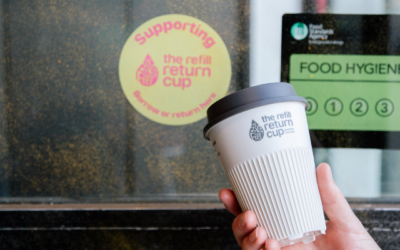 Support our crowdfunder to help Bristol break-up with plasticIntroducing our Crowdfunder campaign for Bristol Refill Return Cup - a returnable cup scheme for Bristolians to enjoy their hot drinks without any waste. The pilot project has now ended, and we need your...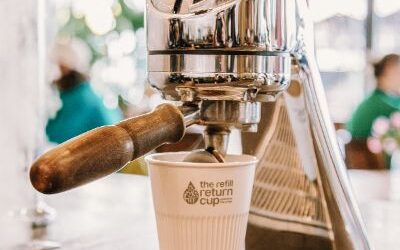 The Refill Return Cup is the first-of-its-kind returnable coffee cup scheme in independent coffee shops, helping Bristol break up with single-use.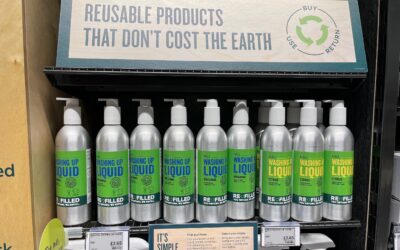 Making a splash with Marks and Spencer's on the Refill app! Home of Colin the Caterpillar and Percy Pig, Marks and Spencer's have officially joined the Refill Revolution!