Refill and COVID guidance
Good news for the Refill Revolution
Last month, over 100 scientists released a statement confirming that single-use plastic is no safer than any other material and reusables are perfectly safe to use during COVID-19, provided they are cleaned properly. This means it's safe for both Refill Station staff and the public to use and accept reusable bottles, cups and containers providing standard government food safety advice for health and hygiene is followed.
As an organisation, City to Sea has been working hard to keep reusables on the menu. Check out the reusables and COVID hub for all the latest news, advice and FAQs for safely accepting reusables, including Contactless Coffee, a guide for accepting reusable cups safely.
Staying safe, staying hydrated
Working with our Refill partners and the REPEAT (Reuse + Plastic Experts Action Taskforce), we've now created guidance for Refill Stations on safely accepting reusable bottles for drinking water refills.
Following these super-simple steps you, your staff and your customers will be able to continue to power the #RefillRevolution. And prevent millions of single-use plastic bottles from entering our waste stream, or worse, ending up in our oceans.
We hope this guidance helps you to go forth and Refill safely! If you're not already signed up as Refill station, you can download the free app, put your tap on the map and get Refilling.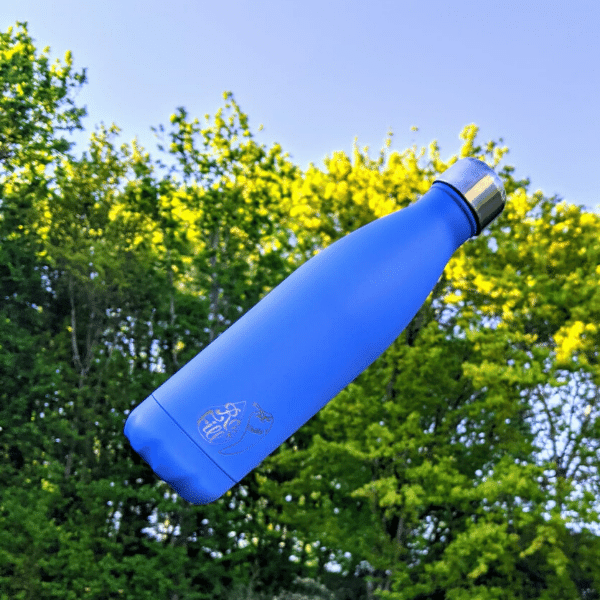 Water Refills: a Guide to Refilling Safely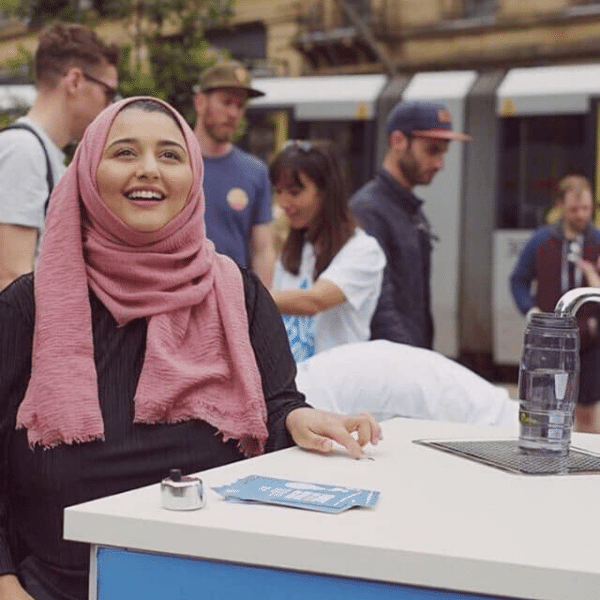 Checklist for Refill Stations
Many drinking water systems may have been left stagnant due to premises either being closed or with reduced staff during the recent period of restrictions. Refill Stations reopening after a break should consult Water UK's briefing note on recovering drinking water supplies in buildings and networks after prolonged inactivity. This provides important guidance on how to safely restore drinking water systems – a must for anyone offering refills! Stations should also follow the UK guidance covering restaurants offering takeaways/deliveries and shops and business that can open to the public.
The following steps can be taken to minimise risk when interacting with the public (e.g. when selling food or drinks) by:
minimising contact
creating physical screens
cleaning the workplace
providing site guidance on social distancing and hygiene etc.
Providing the above is followed, it's safe for Refill Stations to continue to offer free drinking water refills to their customers. Hooray!
How to Refill during COVID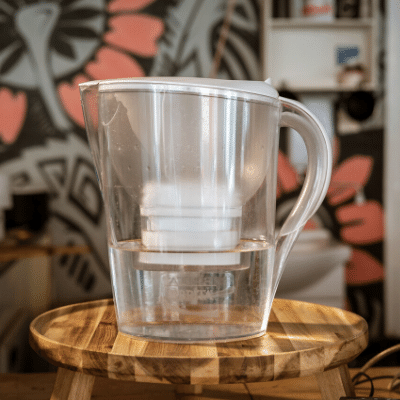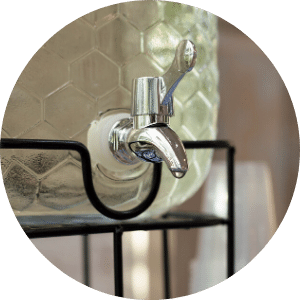 We know there are different ways that Stations offer refills. So, working with experts and with the backing of our partners and the REPEAT group, we've developed the following guidance demonstrating four different options for safely accepting reusable bottles.
Whilst contactless options are preferable – as this means a reduced risk of contamination from surface contact – barriers, hand-washing and increased cleaning can all be effectively utilised to minimise the risks to these methods of offering water refills.
Advice for Refill Stations offering over the counter water Refills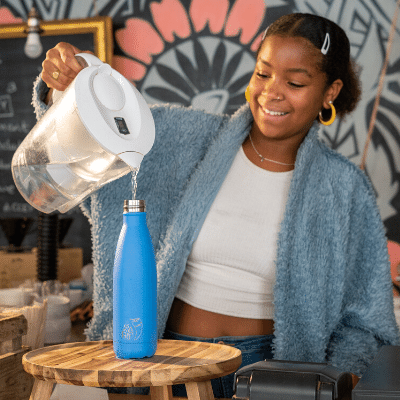 Option 1 – Contactless Refills
1. Create a designated area on the counter for the customer to place their reusable water bottle on a tray. We suggest using the Refill water bottle sticker, please get in touch if you'd like us to send you one.
2. Customer removes lid from reusable water bottle, places the clean bottle on the tray on the counter then steps away.
3. Server steps forwards, pours water from a jug (ideally with a lid) into the bottle without touching the bottle and steps back.
4. Customer steps forward, takes the bottle and moves away from counter before putting the lid back on.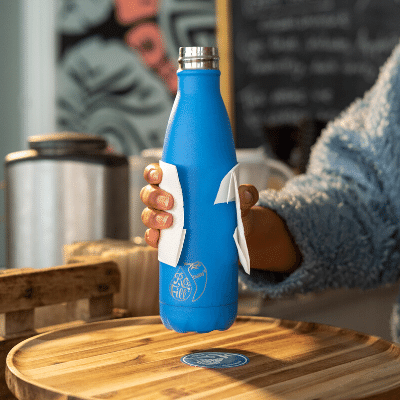 Option 2 – using a barrier
1. Customer removes lid from reusable water bottle, places the clean bottle on the sticker / tray on the counter then steps away.
2. Server takes the bottle, using blue roll or a tissue to hold it (please don't use disposable plastic!).
3. Server fills the bottle from a tap and places it back on the counter removing the tissue / blue roll.
4. Customer picks up the bottle and replaces the lid.
5. Server washes hands for 20 seconds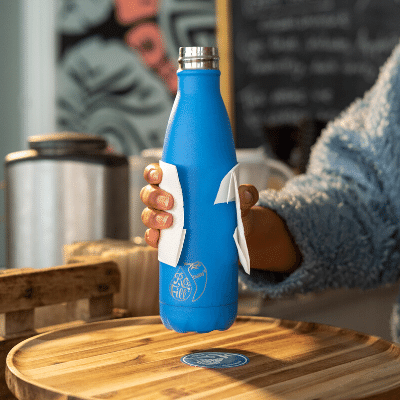 Advice for Refill Stations offering customer self-refills of water bottles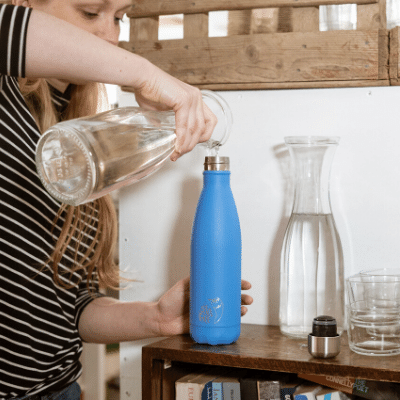 1. Business creates designated Refill area – this should be a clearly marked space. We recommend using a closed container such as a large Kilner jar or a jug with a lid as this will remove the risk of contamination through respiration.
2. Customer washes hands thoroughly and uses hand sanitiser provided at the Refill Station before and after touching the jug or tap. Refill Stations may also want to provide paper tissue for the customer to use when touching the Refill container.
3. Customer pours water from Refill container into clean water bottle without touching the top of the bottle.
4. At regular time slots, staff clean down the Refill Station and container.
5. When Refilling the container, staff should wear a face covering to avoid contamination from respiration.
6. The customer should maintain social distancing whilst queueing to use the water Refill Station.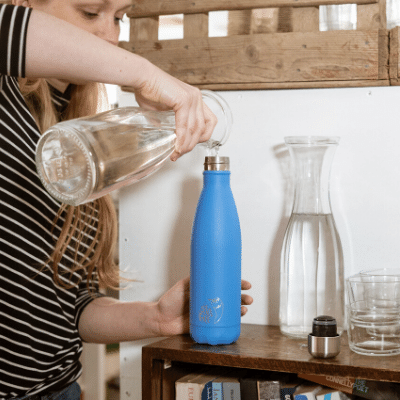 Advice for Refill Stations offering water refills from a drinking water fountain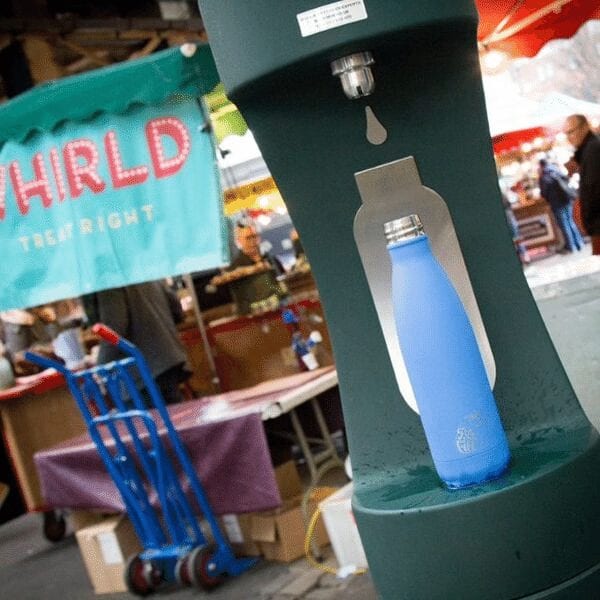 Water fountains should be maintained regularly as per standard guidelines.
1. The fountain user queues a safe distance from the fountain and from anyone else waiting to use it. (Check the latest government advice for your local area on the recommended social distance guidelines).
2. The user should wash their hands thoroughly or use hand sanitiser before and after touching the button/any part of the fountain.
3. The user is advised to use an elbow/ back of hand/ knee to operate the fountain if hand washing facilities/hand sanitiser is not available. The user should be careful to not sneeze or cough in the direction of the fountain.
4. The fountain user should let the water flow for 10 seconds before refilling their water bottle to ensure the water is fresh.
5. The user should avoid touching the waterspout or water nozzle with their water bottle or their hands.
6. The fountain needs to be regularly cleaned by the organisation who is responsible for maintaining the potability of the water.
Useful resources and guidance
Looking for more ways to keep reusables on the menu?
Perhaps you're a Refill Station who also does takeaway coffee, or you offer takeaway food and want to make the right choices when it comes to containers and packaging. As you navigate reopening after lockdown, check out the reusables during COVID information hub. It has all the tips, advice and guidance to help you get back up and running in a way that's safe for your staff, customers and the planet.
We'd love to hear how you get on with offering refills in the time of Coronavirus so please get in touch with any feedback on this Refill and COVID guidance.