Robeco and City to Sea unveil Refill fountain at London City Airport
Leading sustainable investment company Robeco, a longstanding partner of City to Sea, are this week launching a new Refill fountain at London City Airport to help keep thirsty passengers hydrated and reduce plastic pollution.  
Taking Refill to the next level
We know that travel represents one of the biggest challenges to reducing plastic bottle usage, with 42% of passengers who use refillable bottles admitting to buying a single-use plastic bottle at an airport.[1] London City Airport had recognized this issue and promotes free water refills at their airside restaurants and bars. This new Refill fountain takes the initiative to the next level, making Refill even more visible within the airport and helping to reduce consumption by over 2.3 million bottles a year if every passenger in London City Airport's departures lounge refilled instead of buying a single-use plastic bottle.[2]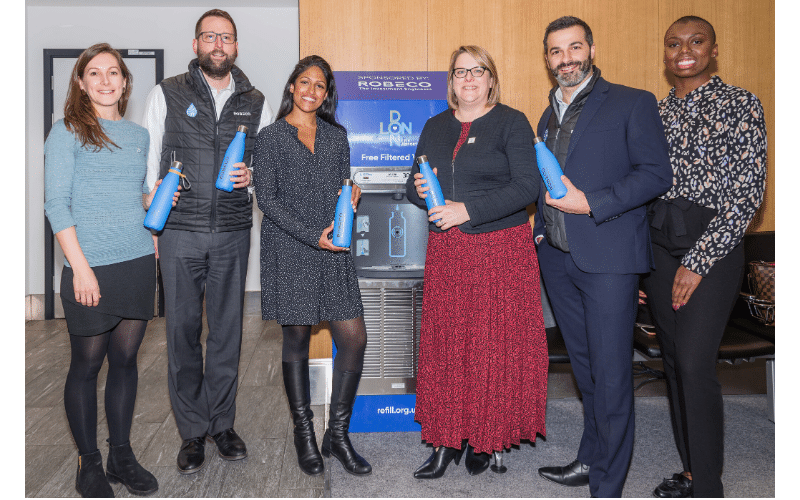 Rebecca Burgess, CEO at City to Sea: "This water bottle filling station provides substantial support in keeping the Refill revolution flowing. City to Sea's Refill campaign is a gateway to other behavioural changes towards sustainability and it is just one of our many initiatives reversing the trend for disposable items. Providing refill stations in busy transport hubs like London City Airport, alongside signing up more pubs, cafés and shops to our Refill app, will continue to help stop marine plastic pollution at source. The water bottle filling station also forms part of our #PlasticFreeTravel campaign, as well as increasing its presence in travel hotspots across the UK."
Since Robeco and City to Sea's partnership was launched in October 2018, Robeco has helped City to Sea grow its Refill campaign and raise awareness of the importance of 'reduce and reuse' behaviours amongst its employees and clients via a number of initiatives across the investment industry.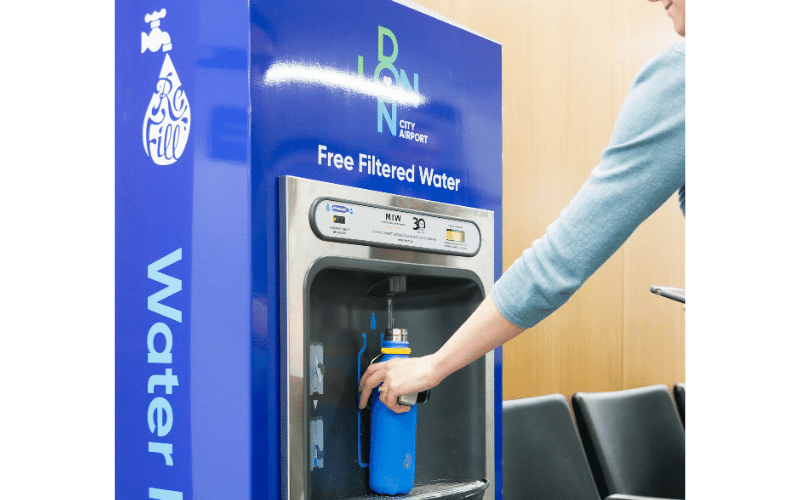 Preventing plastic pollution at source
It is estimated that, through the campaign, 100 million plastic bottles will have been saved from entering the UK's waste stream by the end of 2019. There are now more than 25,000 Refill Stations signed up across the UK alone and over 260,000 people have downloaded the Refill app.
Peter Walsh, Head of Robeco UK, said "We are very pleased to continue our partnership with City to Sea with the installation of this prominent new water filling station at London City Airport. Single-use plastic engagement, one of Robeco's four engagement themes of 2019, focuses on food and beverage producers, chemical companies and the plastics manufacturers themselves."
"As a leader in sustainability integration we are committed to advancing the adoption of environmental, social and governance (ESG) investing across the industry, as well as achieving the United Nations Sustainable Development Goals (UN SDGs) and actively engaging with the companies in our portfolios. It is important that we meet the needs of the present generation without compromising those of generations to come."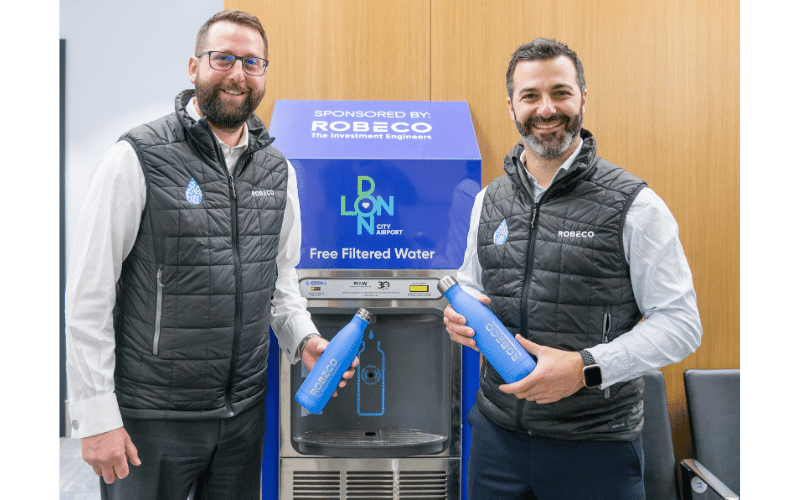 Tessa Simpson, Head of Environment and Technical Operations at London City Airport, said "Of the several solutions we have put in place to tackle single-use plastics at the airport, the Robeco and City to Sea filling station is the most noticeable and has the greatest potential to make a difference. Making our operations more sustainable is a top priority, as is providing our passengers with great facilities. So, we are very pleased to be part of this initiative."