Refill Ramsbottom launch a new fountain 
A community collaboration brings water fountain to Ramsbottom
We're so excited to announce the arrival of our new water fountain. Next time you're visiting the Communities Incredible Edible Garden in the market place, building up a thirst collecting your fresh herbs to go with your tea you can now refill our water bottle for FREE!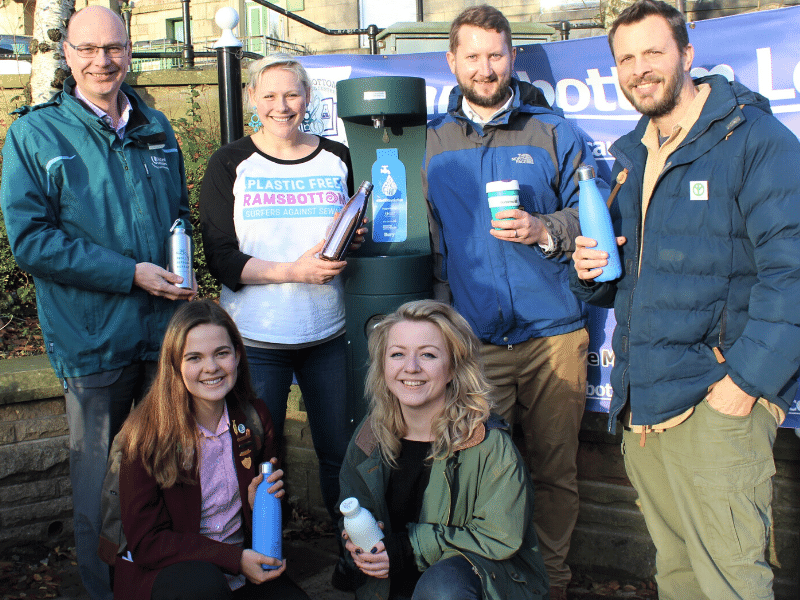 The new fountain is a result of a collective of community organisations and businesses taking a combined approach to stamp out avoidable single-use plastic. All with the aim of helping the area (and Greater Manchester as a whole).
Refill Ramsbottom, run by Plastic Free Rammy, started in Ramsbottom in December last year, with the support of Eunomia, United Utilities, Greater Manchester Combined Authority (GMCA) and Bury Council. The community now has a permanent outdoor water bottle Refill Station, which gives the residents and visitors an additional way to top up while out and about in town.
Chairman Dominic Hogg from Eunomia said, "We're proud to help fund this fountain as it will help reduce consumption and littering of plastic bottles, helping in a small way to address the problems of plastic pollution and of climate change.  It is important that people stay hydrated and have access to ways of refilling either at participating refill outlets or at fountains like this one."
Pete Fillery of Plastic Free Rammy and Incredible Edible Ramsbottom said: "We think our fountain is INCREDIBLE, it's the perfect place for people to 'refill' and help themselves to any of the free edibles we've got growing in Market Place. We're so grateful to all the organisations that helped make this happen. Alongside the plastic free motion that was passed by council and helped us achieve our first Surfers Against Sewage objective and in turn our Plastic Free Community status, it shows real commitment in reducing plastic waste and supporting our community."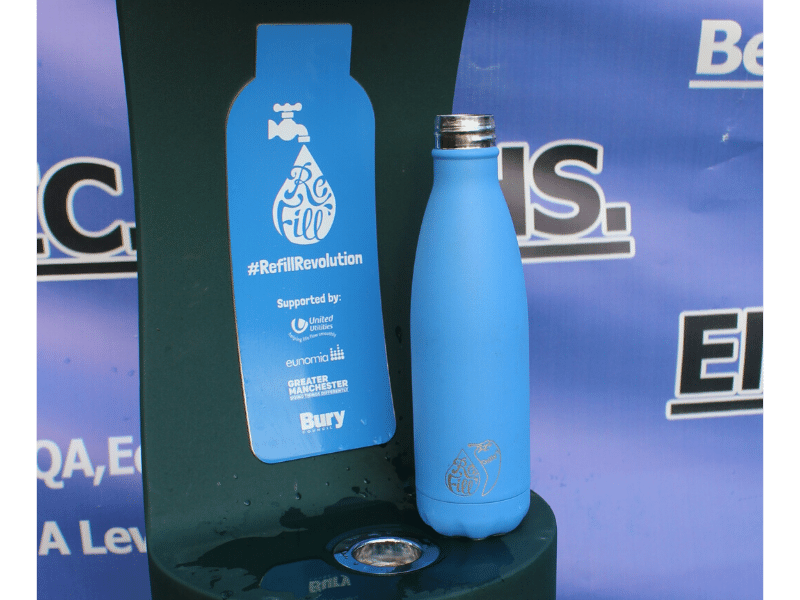 Refill Greater Manchester
The PlasticFreeGM scheme is delivered by GMCA, asking businesses, organisations and individuals to take the pledge to reduce avoidable single use plastics across Greater Manchester. Also working with campaigning partners to provide information and advice, to help everyone make more sustainable choices. Refill Greater Manchester is a part of the efforts to reduce use of single use plastics in the city-region. 
The new Ramsbottom fountain is a result of a pilot scheme running over the Greater Manchester region. This supports the local Refill Schemes as they sign up businesses to provide free tap water to passers-by. Earlier this year the first fountain was installed in St Mary's Park, Prestwich. Additionally, a number of cafes and restaurants have already signed up as free Refill Stations, including Plentiful Plastic Free, The Mouse Trap and Room 54.
Mayor of Greater Manchester, Andy Burnham said: "In Greater Manchester we are committed to stamping out avoidable single-use plastics. Fountains like this one are just one way we are trying to do this, making it easier for people to use refillable bottles and cutting down on the amount of plastic waste harming our environment. This is a really positive scheme that I hope people will make the most of."
Chris Matthews, Head of Sustainability, United Utilities added: "We're delighted to be supporters of the Greater Manchester Refill campaign and to be helping Refill Ramsbottom provide locals and visitors with great tasting tap water on the go. I can't think of a better to place to install the fountain, at the heart of the Incredible Edible Garden, to encourage more people to ditch single-use plastic and live sustainably".
This new fountain just goes to show the power of a community group, and hard-working local Refill Schemes, in getting things done. Demonstrating that with a little bit of support from the Regional Coordinator, local businesses and communities, Refill can start becoming more mainstream in our villages, towns and cities.
A huge thanks to Eunomia for all their support and for funding the fountain, and equally to United Utilities, Greater Manchester Combined Authority and Bury Council for helping to make it all happen!
Here's to seeing more amazing fountains as part of our 50 Fountains Challenge. Haven't heard about it yet? Check it out here.