Set up as a result of the excessive amount of litter left on Margate's beautiful beaches, Refill Margate are working hard to empower local people to take meaningful action that helps to mitigate the plastic crisis. 
Refill Margate is a community-driven social initiative with a mission to clean up Margate's beaches and protect the local coastline, ocean, and native wildlife, and is run by local environmental community group, RISE UP. CLEAN UP. MARGATE. CIC.
Since joining the Refill Revolution last year, Refill Margate have signed up more than 45 businesses as Refill Stations – where anyone can go while out and about to refill water bottles. Whilst signing businesses up as Refill Stations, they've also been campaigning for them to stop selling single-use plastic water bottles completely to stop the flow of plastic at source.
They also run regular beach cleans saving over 1,000 bags of rubbish from the ocean since July 2021. Meet the team behind Refill Margate and find out more about the incredible work they do!
If you're looking to start a Refill Scheme, we've got a guide to help you get started.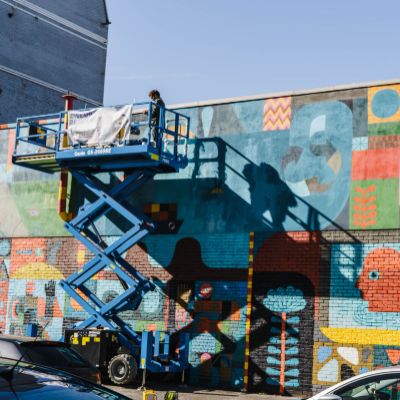 Photo Credit: Conor Gault
MarGREAT – Activism & Art
Last October, Rise Up. Clean Up. Margate organised Rise Up Residency, welcoming seventeen local and international artists to stay in Margate and create public art as a means of raising awareness of ocean conservation and the issues caused by single-use plastic in and near our oceans.
From documenting ocean biodiversity to plastic hazards and ocean species, the murals intend to inspire, unite and empower the community. City to Sea and Refill are proud charity sponsors of two of these incredible murals. Make sure you check them out if you ever find yourself in Margate!
"Everyone has the power to make a big change. Altering small things in your day-to-day life and spreading the word to your friends has a huge ripple effect." – Amy, Refill Margate.
Visit www.riseupcleanup.co.uk and click on "take action" to find lots of ways to get involved with Refill Margate – from joining their litter picks, to emailing your MP to reporting litter issues. Follow them at @riseupcleanup.