Marks and
Spencer
'
s
join the Refill Revolution!
Making a splash with Marks and Spencer

's

on the Refill app!
Home of Colin the Caterpillar and Percy Pig, Marks and Spencer's have officially joined the Refill Revolution! You can now find over 300 Marks and Spencer's cafes and stores on the Refill app offering not only water and hot drink refills, but also their instore fill-your-own range which allows you to stock up on over 40 store cupboard staples that are available packaging-free.  
The fill-your-own range is currently available in 15 selected stores; Aintree, Banbridge, Bluewater, Edinburgh Gyle, Hackney, Hedge End, Lisburn, Manchester, Meadowhall, Solihull Sears, Silverlink, Staines Two Rivers, Westfield Stratford, York Vangarde Retail Park and Wolstanton Stoke stores. All of which can be found on the Refill app.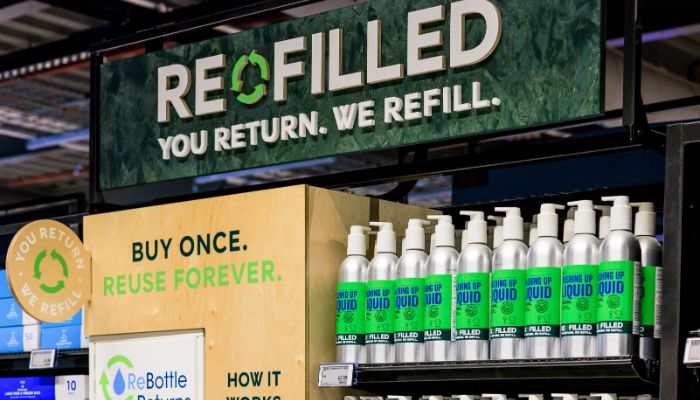 Head to any of the selected Marks and Spencer's stores with your own reusable containers (or buy them direct if you don't have any) and choose to refill from a range of over 40 store cupboard essentials including cereals, rice, pasta, lentils, nuts, coffee and more. These products are the exact same great M&S quality and flavours, simply without the plastic packaging. What's not to love? 
By choosing to reuse, you will not only reduce plastic waste but also food waste by only buying the exact amount you need. And the best bit? You can save money as you do your bit for the planet as Marks and Spencer's fill-your-own products are always at least 10% cheaper than the packaged versions! Double win.
This

isn't

just any old Refill, this is an M&S refill
Since the instore fill-your-own range launched in 2019, Marks & Spencer's have helped customers avoid buying a whopping 350,000 units of plastic. Now that the stores are all listed on the Refill app, we're looking forward to helping our half a million app users find refill and reuse options in Marks & Spencer's stores and together, help stop even more plastic pollution at source! 
Here's what you can refill at Marks and Spencer's…. 
Water – bring your reusable bottle and fill up for free in all M&S cafes. 

 

Hot drinks – bring your reusable cup and get 25p off your drink in all M&S cafes. 

 

Fill-Your-Own grocery refills – bring your own containerss and fill up from a range of store cupboard essential products instore. Plus the fill-your-own products are always at least 10% cheaper than their packaged versions – so it's a great choice for your wallet, too.
Marks & Spencer's launched our 'Refilled' range as a pilot last year, building on the work we've already done across the organisation to reduce packaging and provide refill options for our customers. So far, we've been really pleased with how its progressing. The feedback from customers has been resoundingly positive, return rates have been high and some products have even outsold their single-use equivalent! Looking to the future, we've got plans to expand the range and are optimistic about the potential the system provides to help us meet our packaging reduction targets