LOOP JOINS THE REFILL REVOLUTION
Big news! We've teamed up with 'Loop' – the global reuse platform that is bringing reusable packaging into the mainstream – to map where they are working with some of the BIGGEST food and drink companies in the UK. And we're SO PROUD to announce that you can now find their projects with both Tesco's and McDonald's on the Refill app.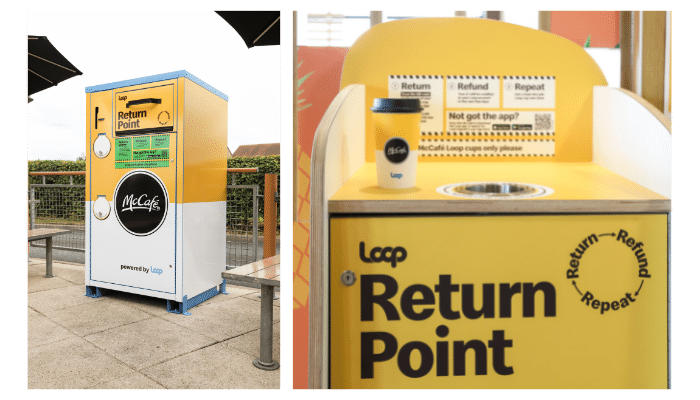 Yep, that's right. Loop have joined forces with McDonald's to launch a reusable coffee cups deposit return scheme pilot. For just a £1 deposit, McDonald's customers can have their hot drink in a returnable Loop cup and will receive 20p off their coffees and teas – meaning a medium white coffee, with organic British Milk and Rainforest Alliance certified beans, can be purchased for just 79p.
Customers just need to bring their cup back to one of the specific Loop branded collection bins, found at one of these participating restaurants, where it will be collected to be cleaned and reused – again and again.
The scheme is currently available in the following participating restaurants, all found on the Refill app: St James' Retail Park, Riverside Retail Park, The Derry and Weston Favell Shopping Centre in Northampton, and London Road and Wilby Way Roundabout stores in Wellingborough.
If this pilot gets rolled out across the country, it could be a real game changer when it comes to tackling the billions of single-use coffee cups Brits use every year. We're lovin' it!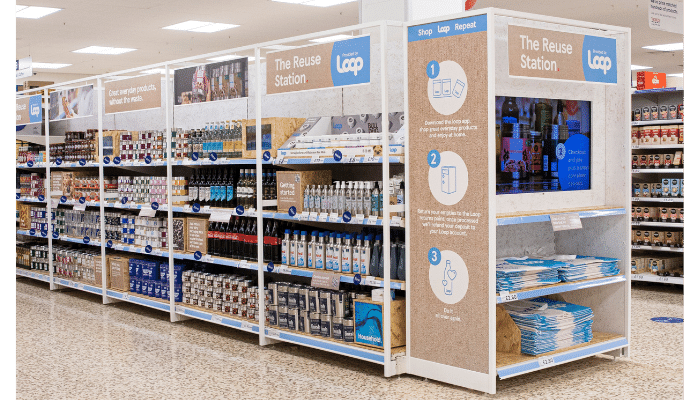 Tesco and Loop have launched a ground-breaking way for its customers to shop for food, drink, household and beauty products in reusable and durable packaging – and it's all mapped on the Refill app!
Customers in ten large Tesco stores in the east of England (all found on the Refill app) can currently buy products in reusable packaging that can be returned to store when finished so it can be cleaned, refilled and used again. These include products from some of the UK's biggest and most popular brands like Persil, Fever-Tree, Carex, Tetley Tea and BrewDog. Plus Tesco has also included 35 own brand essentials in the range, such as pasta, rice, oil and sugar, with even more products set to be added to the range throughout the year.
 Check out the full range of refillable products available here.
The impact of switching just three items of the weekly shop could be enormous… if customers in the 10 stores switched their recyclable tomato ketchup, cola and washing up liquid bottles to the reusable Heinz Tomato Ketchup, Coca-Cola and Ecover alternatives, the packaging would be used and reused more than two and a half million times a year!
The Refill Revolution goes mainstream
Here's what Tom Szaky, founder and CEO of Loop and TerraCycle, has to say about the partnership:
"The consumer reaction to Loop in these first Tesco stores will prove pivotal in refining the Loop offering and ultimately we hope to scale reuse across more stores and the number of product lines available."
This is just the start of the #RefillRevolution as the major players in the industry look to transition to reuse models. The best way to make sure you don't miss out and always know where you can find refills and products in reusable and refillable packaging is by downloading the Refill app today.
Have you used the new Loop packaging at Tesco yet? Or tried the McDonald's cup deposit scheme? Let us know your experience by tagging us on social media!