After cycling around the coast from Liverpool to Ipswich last summer, Hugh is aiming to complete his circumnavigation of the UK coastline back up to Liverpool on his trusty old bike.  
What's Hugh doing? 
This really is an incredible journey Hugh has been doing, Hugh's Coastline Refill Tour is a mini adventure Hugh and his wife have been doing in aid of reducing the use of the single–use water bottle, promoting the use of refillable water bottles and signing up Refill Stations around the country.  
By signing up cafes, bars and restaurants on our magnificent coastline to the Refill app, Hugh is massively helping to reduce plastic pollution at the source and spread our Refill mission. On the last leg of his tour, he signed up over 150 stations on our app and hopes to do just as many this year.  
Hugh's Refill Tour Part 2 
They set off on the second leg of the tour on the 13th May and this year his wife Angela is joining the adventure, so the beaches will be even cleaner! They will be camping for most nights so praying for the great weather Hugh got last Summer.  
Follow their ride and cheer them on at #Hughsrefilltour and @hughsrefilltour on Instagram
How much has changed in a year!  
Since the last time Hugh set off on his bike the reusable agenda has exploded, and much–needed legislation is also on its way. Unfortunately, it is still estimated that over 35 million single-use plastic water bottles are used in the UK every year, of which an unknown but significant percentage enter the sea. They take hundreds of years to break down and are causing devastation to ocean wildlife. We are lucky in the UK that our tap-water is of exceptional quality and perfect to drink – especially after a long day of cycling!  
Joining the Refill Revolution  
Hugh has partnered with us here at Refill and is signing up local cafes, bars and restaurants on our app as he goes. The Refill app is the water drinker's friend, helping you save money and find free tap water to fill up your reusable bottle on the go. Download the app and find your nearest Refill station, or look for the sticker in the windows, for where you can fill your bottle free of charge. Hugh also hopes to meet up with Refill Co-ordinators on the way so if you are one, do get in touch with him @hughsrefilltour.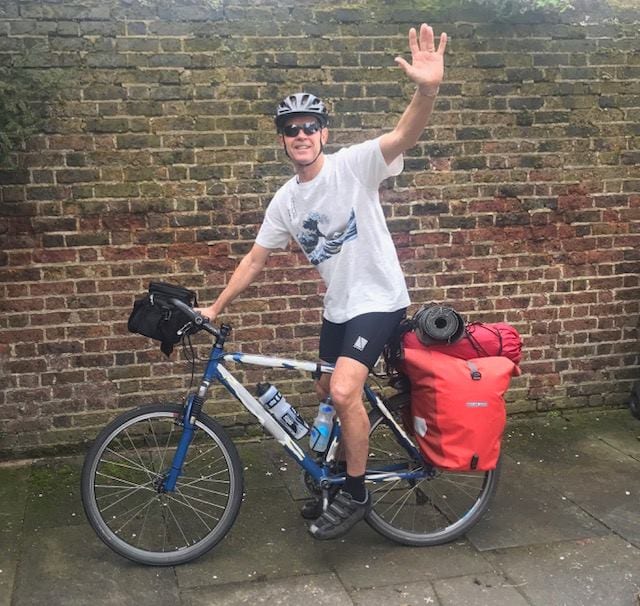 You can join us too… 
We love to see people like Hugh getting so involved and combining their past times with Refill, especially with National Refill Day coming up on the 19th June! Share with us how you use Refill, and how does it hydrate your hobbies? A massive thank you to Hugh and Angela for their dedication and commitment to Refill – keep up the good work and have a refill on us!