Open Letter to the world's biggest plastic polluters on World Refill Day
Dear Mr. Quincey, CEO of Coca-Cola, Mr. Laguarta, CEO of PepsiCo, Mr. Schneider, CEO of Nestle, Mr. Jope, CEO of Unilever and Mr. Moeller, CEO of Procter and Gamble,
On World Refill Day, we the undersigned over 400 organizations are writing to you, as representatives of the 5 biggest plastic polluters in the world, to seek your commitment to transparent, ambitious and accountable reuse and refill systems as part of wider commitments to reduce the amount of plastic that you produce. This is a matter of utmost priority.
The level of the plastic crisis demands urgent action. Plastic production is set to rise by 40% over the next decade, driven in large part by single-use plastic packaging. The impact it's having on the oceans, terrestrial environment, wildlife and human health is devastating. At least 14 million tons of plastic end up in the ocean every year. A growing body of evidence is showing significant pollution of the soil with microplastics. Plastic has now been found in human blood, lungs and placenta, and many of the chemical additives used in plastic are toxic to human health.
The harm caused by plastic begins at the very start of its lifecycle. Much of the plastic and petrochemical infrastructure, including in the United States, is located in areas that are Black, Indigenous and People of Color (BIPOC), rural and low-income communities, who deal with severe health impacts from the toxic industrial pollution. This is a situation seen around the world. Plastic production, use and disposal is much more than an environmental problem, it's also a social justice, racial justice and human rights issue.
In addition, the majority of plastic is made from fossil fuels, and the entire life cycle generates harmful greenhouse gas emissions that are a threat to the climate and to human health. One study found that plastic will add more than 850 million metric tons of greenhouse gases to the atmosphere in a single year. This equates to the pollution from 189 new 500-megawatt coal-fired power plants. If the entire lifecycle of plastic were a country, it would be the fifth largest emitter in the world. It's evident that plastic production is incompatible with climate goals and the global effort to restrict warming to 1.5 degrees celsius. The IPCC is clear, this is our last warning before the world is set irrevocably on a path to climate breakdown.
Your companies represent the five biggest plastic polluters in the world and as such, need to be at the forefront of finding systemic solutions to this plastic driven ecological crisis. We cannot recycle our way out of this problem, the damage caused by plastic production will only be stopped by reducing plastic use.
There are three simple steps that we urge you to adopt to become global leaders in tackling the plastic crisis:
REVEAL the full extent of your plastic footprint if you do not already do so. This is a core part of accountability and essential if you are to begin to reduce it. Reporting should be per single use plastic item as well as weight.
REDUCE the amount of plastic you use driven by setting ambitious, transparent targets and supporting action plans on how to achieve them. Then prioritizing achieving those targets.
REINVENT your packaging to ensure it's refilled and reused by design. In order to do this, you should commit to collaborating with other companies to standardize reusable packaging and build shared reuse systems and infrastructure.
We recognise the injustice of companies based in the Global North making decisions on packaging formats that have severe social and environmental costs for communities in the Global South. It's time your corporations redress this by investing in non toxic reusable methods of delivering products that are affordable and accessible for all. At the same time, to stop relying on burning technologies for disposing of packaging materials that are already on the market.
By focusing on reducing the use and demand for plastic packaging and centering reuse and refill at the heart of your response, you will be illustrating a true commitment to effectively tackling the plastic driven ecological crisis that we face, and an acknowledgement of your role within this crisis. It's becoming increasingly evident that putting the majority of your sustainability efforts on recycling is not the answer to tackling this crisis. While recycling provides livelihood opportunities for many people, it is not enough to address pollution in many areas of the plastic life cycle, particularly in plastic production. Moreover, recycling some types of plastic is not economically feasible, forcing governments and businesses to pursue harmful and unfair disposal options like waste trade and incineration.
These steps, if taken with ambition, urgency and effectiveness, would position you as world leaders in tackling plastic pollution, as opposed to lead polluters. We, as a global community look forward to supporting you in making this rapid transition away from single-use plastics towards a sustainable growth in reuse and refill packaging solutions. We will however, equally be here to hold vague promises, false solutions or deflections from effective solutions to account.
In hope, urgency, and optimism,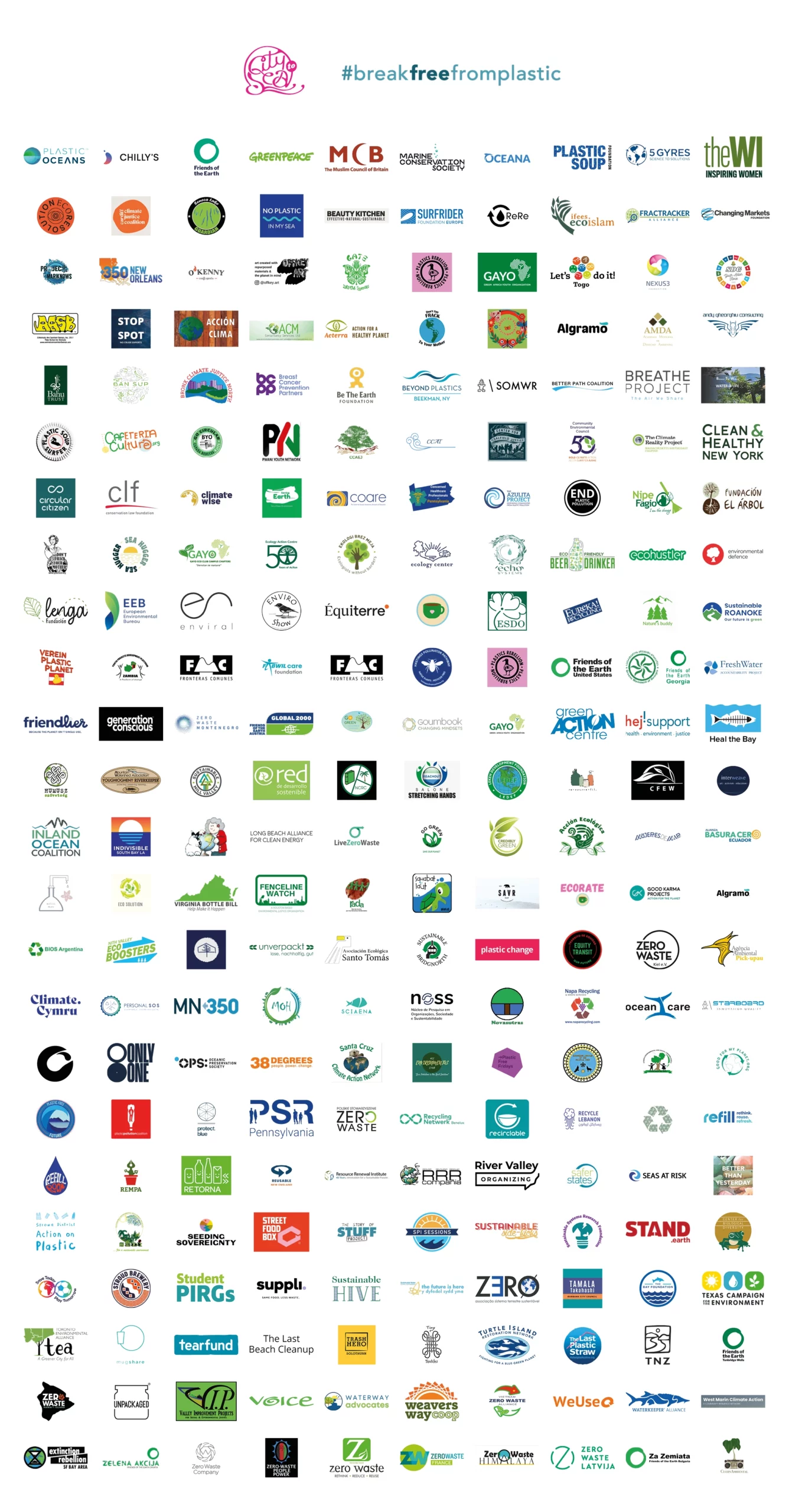 Africa
Sustainable Environment Development Initiative
End Plastic Pollution
Front Commun pour la protection de l'environnement et des espaces protégés(FC¨PEEP-RDC)
Nipe Fagio
DION (Small Island Developing States)
South Durban Community Environmental Alliance
Pesticide Action Network
Green Africa Youth Organization (GAYO)
Centre for Earth Works CFEW
CREPD
Citizens Environmental and Social Concern – CESCo
For Green and clean Tunisia
Go Green save the Environment
Fabwil care Foundation
Nature Cares Resource Centre
Green Africa Youth Organization (GAYO)
Green AFRICA Youth Organization Eco-club Campus Chapters
Gabriel Mevuta
Saving Earth Africa
Let's Do It! Togo
Pwani Youth Network
Nipe Fagio
Lekeh Development Foundation
Reachout Salone
Youth Projects Development Platform
C-CUBED 🇳🇬
Asia Pacific
Vietnam Zero Waste Alliance
Project Mariknows
Ecosoum
Environment and Social Development Organization – ESDO
Trisia Farrelly
Matthew Peryman
Doun Moon
Recycle Lebanon
Nature's Buddy NGO
CEJ
Vida Castro
Nexus3 Foundation
Green Vientiane
Goumbook
Sahabat Laut (Friends of the Sea)
Zero Waste Himalaya
Julia Newall
Charmie Encarnacion
Soul Spaces
Tagum SDG Youth Action Force
Orlen Falia Mores-Mallen
Mouli Venkatesan
Sarah Rauzana
Katrine Burford-Bradshaw
VAP JSC
My Anh
Centre for Financial Accountability
Nexus3 Foundation
K. Angeline Pittenger
Europe
ZERO – Association for the Sustainability of the Earth System
Polish Zero Waste Association
European Environmental Bureau
Plastic Soup Surfer
Natalie Fée – Founder and CEO of City to Sea
VOICE Ireland
Zero Waste Kiel e.V.
Unverpackt Kiel
Ecohustler
Humusz Szövetség
GATE Zöld Klub Egyesület
Natalie Bennett (Baroness Bennett of Manor Castle
No Plastic In My Sea
Stroud Brewery
godsells cheese
Amelia Womack Green Party Deputy Leader
Ekologi brez meja
Zero Waste France
Friends of the Earth Pontypridd
The Greens Movement of Georgia/FoE Georgia
reGeneration Weston
Suzanne Iuppa
OceanCare
Friends of the Baltic
Zero Waste Latvija
Sustainable Wales
Single Use Alternatives
Onegreenbottle
MOH APS
Paul Graham
Zack Polanski – Green Party London Assembly Member
Jo Taylor
Stroud District Action on Plastic
Greenpeace Luxembourg
Street Food Box
Myriam Wecker
NGO Zero Waste Montenegro
Verein Plastic Planet Austria
Narguiz
Climate Cymru
Cardiff Climate Justice Coalition
Meys Frédéric
Leverrier
Friends of the Earth England Wales and Northern Ireland
Trash Hero Solothurn
Unpackaged (Unpackaged Innovation Ltd.)
Plastics Rebellion
The Greens Movement of Georgia/FoE Georgia
Polish Zero Waste Organisation
Laurence Wells
SEAS AT RISK
Marine Conservation Society
Muriel Papin
Humusz Szövetség
Environmental association Za Zemiata
GLOBAL 2000 – Friends of the Earth Austria
Plastic Change
Sustainable Sidekicks
Sustainable Bridgnorth
Sustainable Bridgnorth
Credibly Green Limited
Maria Westerbos, Plastic Soup Foundation
Richard Lindsay
Samantha Drury Shore
Swoop Travel Ltd
Green Bubble
Donna Hayter
POSITIVE TV
Kerry McCarthy MP
Josh Dudman
Hugh Fearnley-Whittingstall
Tunbridge Wells Friends of the Earth
Protect Blue
World Ocean Day for Schools
Enviral
Plastics Rebellion
Society for Earth (TNZ, Poland)
Rebecca Burgess
SOMWR
Małgorzata Gęca
Stroudco Community Interest Company
Julia Davies, We Have The POWER
Zero Waste Kiel e.V.
Unverpackt Kiel
Surfrider Foundation Europe
Good Karma Projects
38 Degrees
Be The Earth Foundation
Nicky Amos, Chair of Public Affairs Committee, National Federation of Women's Institutes
Sciaena
Muslim Council of Britain
Bristol ReUse
EcoResolution
ShamrockSpring
Unpacked Ireland Ltd
Danielle Standish
Association Good For My Planet
Beauty Kitchen
Refill Ireland
Bahu Trust
Recycling Netwerk Benelux
Zelena akcija / FoE Croatia
Zero Waste Europe
George Clark
Megan Murphy
Co-relate Communication CIC
Jane Matthews
Longridge Environment Group
Claire Platten
Jemima Lomax
Nic Lee
St Athans Hotel
Ways out of the Plastic Crisis
Ways out of the Plastic Crisis
a tip: tap .e.V.
Refill Leeds
Retorna
Compañía de las 3Rs
Acción Clima (Navarra, España)
Global Organisations
OceanCare
Andy Gheorghiu Consulting
Stiv Wilson
Only One
Tearfund
Valerie Wood-Gaiger MBE
Oceana
ANNA HEWSON
Plastic Pollution Coalition
Greenpeace
Climate Wise
Blue Corner Marine Research
Starboard
Nusa Urbancic
Algramo
Chilly's
Algramo
Islamic Foundation for Ecology & Environmental Sciences
Novasutras
Waterkeeper Alliance
Common Seas
Trash Hero World
350.org
Oceanic Global
Andrea Osorio Baquero
Latin America
Personal SOs
Fundación Mujeres de Mar
Nenhuma
Sucata Quântica
Sociedade Civil
Núcleo de Pesquisa em Organizações Sociedade e Sustentabilidade
Denise
Não tenho
Observatorio Ciudadano de la Calidad del Aire de Morelos
CuernAmbiental.org
Facultad de Ciencias Biológicas
Acción Ecológica A.C.
Academia Mexicana de Derecho Ambiental A.C.
Decrecer para el futuro, AC
Pangea
Fundación Biosfera del Anahuac, A.C.
Obligando a reducir el plástico
Asociación Ecologica Santo Tomás A.C.
CESTA Amigos de la Tierra El Salvador
BIOS Argentina
Red de Desarrollo Sostenible
Fundación El Árbol
Movimiento Ecofeminista de El Salvador
Acción Resiliente
Red Mexicana de Periodistas Ambientales
Eco Sitio
Jovenes Ambientalistas
Fundación Mingas por el mar
EcoFundacion
Agrupación Junquillar
Fronteras Comunes
Amigos de la Tierra
Red de Acción por los Derechos Ambientales RADA
fundacion lenga
Ecorave
Aliança Resíduo Zero Brasil
Nanushka Santiago Guerra
Alianza Basura Cero Ecuador
Agência Ambiental Pick-upau
RED DE DESARROLLO SOSTENIBLE
Freelance
FRONTERAS COMUNES
Fronteras Comunes
North America
Plastic Pollution Coalition
The Center for Oceanic Awareness, Research, and Education (COARE)
Inland Ocean Coalition
FreshWater Accountability Project
Student Public Interest Research Groups
The Last Plastic Straw
The Last Beach Cleanup
Center for Biological Diversity
Live Zero Waste
Sheffield Saves
Turtle Island Restoration Network
Weavers Way Cooperative Food Association
ECHO Systems
Harrison sustainability committee
Community Environmental Council
WeUse Innovations Inc.
Deborah S Dillard
5 Gyres Institute
FoCo Trash Mob
Eco-Friendly Beer
Zero-Waste People Power
ReusableReno.org
Sustainable Mill Valley
Sea Hugger
Texas Campaign for the Environment
Bronx Climate Justice North
Oceanic Preservation Society
Breathe Project
The Enviro Show
Jackie Smolen
Heal the Bay
The Last Plastic Straw
Azulita Project
Wall of Women
Community Earth Alliance
texas environmental justice advocacy services
Peggy Ann Berry
Danett Abbott-Wicker
Santa Cruz Climate Action Network
Waterway Advocates
Animals Are Sentient Beings Inc
Berks Gas Truth
Better Path Coalition
Equity Transit
Terra Advocati
Jean Ross
Nancy Hu DDS
Ruffin Shackelford
Seneca Lake Guardian
Athens County's Future Action Network, acfan.org
Better Than Yesterday
Sheffield Saves
Brian Caffrey
Kreig Larson
Resource Renewal Institute
Climate Reality Massachusetts Southcoast
River Valley Organizing
Mountain Watershed Association
MN350
Sustainable Systems Research Foundation
Zero Waste Hawai'i Island
Stop SPOT and GULFLINK
Generation Conscious
Kathleen Odvody
Ashley Craig
Plastic Free Future
Blue Ocean Warriors
Physicians for Social Responsibility Pennsylvania
Lori Stephens
Stand.earth
PSARA (Puget Sound Advocates for Retirement Action)
Puget Sound Advocates for Retirement Action
Leah Stettler-Schug
Environmental Defence Canada
Tradle Exchange Inc
New Hope Unitarian Universalist Congregation
O'Kenny Craft Spirits Inc.
Mankato Zero Waste and Beyond Plastics Greater Mankato Area
Kelly Karstad
Marcia Gustafson
Center for Community Action and Environmental Justice
EcoRate
Recirclable
Tamala Takahashi
Kelly Gaherty
Nancy Griffeth
Megan Gaherty
Melissa Gaherty
Long Beach Alliance for Clean Energy
Indivisible South Bay LA
Alley Farms And Gardens
Aarin Hartwell
Circular Citizen Consulting
Adult Ed Sustainability
Marlowe Grau
Plastic Oceans Canada
mugshare Re-use Network
Plastic Free Fridays
Extinction Rebellion San Francisco Bay Area
Etobicoke Climate Action
Resourcefill
– Select –
Zero Waste Hawai'i Island
Équiterre
Valley Improvement Projects
CJ O'Brien
Sustainable Roanoke
Ecology Action Centre
Reusable San Mateo County
Dr. Matthew Warren
Suppli
Safer States
Alaska Community Action on Toxics
Central Ohio Reuse Coalition
Graham Hamilton
California Communities Against Toxics
Clean and Healthy New York
Friendlier
IWLA – Allegheny County chapter
Christopher Chin
Sierra quitiquit
Story of Stuff Project
Valley Improvement Projects
Eliseo Nevarez
Mid-Ohio Valley Climate Action
Breathe Project
Seeding Sovereignty
Turtle Island Restoration Network
7th Generation Advisors
Beaver County (PA-USA) Marcellus Awareness Community (BCMAC)
Fenceline Watch
Indigenous Peoples of the Coastal Bend
Ban SUP(SIngle Use Plastic)
Between the Waters
Plastic Free Fridays
Mothers Out Front SF
Health and Environment Justice Supprot (HEJSupport)
Good Neighbor Steering Committee of Benicia
Friends of the Earth US
Beyond Plastics Beekman NY
Green Action Centre
Concerned Health Professiionals of Pennsylvania
Neil Seldman, INstitute for Local Self-Reliance
Cynthia Eagleton
Refill Room
Lauren Weston
Lauren Lukacek
Nassau Hiking & Outdoor Club
South Shore Audubon Society
Conservation Law Foundation
Zero Waste Company
Ecology Center
Nebraska Recycling Council
Olivia Larson
Lief Youngs
Tiny Textiles/ Wilder Color
Zadka Mikelson
California Communities Against Toxics
Janet Nudelman
350 New Orleans
West Marin Climate Action
Waste Reduction and Diversion
VA Bottle Bill
Cafeteria Culture
Mountain Watershed Association
Sheffield Saves
North America Refillable Bottle Association
PCC Environmental Club
Eureka Recycling
Faith Legendre
Hastings Pollinator Pathway
SAVRcup
Offkey Art
Paul Litwin
Sisters of St. Joseph
Nith Valley EcoBoosters
Recirclable
Canada Reduces
Meghan Peterson
Karen Lang
Go Green Vernon Hills & Lincolnshire
Reusable New England
Mary Wahlmeier
Refill Mercantile
Bainbridge Island (WA) Zero Waste
Toronto Environmental Alliance
Leslie Lukacs
EcoRate
Thomas Herz
Center for Coalfield Justice
Live Zero Waste
FracTracker Alliance
Napa Recycling & Waste Services
The Bay Foundation
PASUP (Pittsburgher's Agaonst Single Use Plastic)
Mankato Zero Waste and Beyond Plastics Greater Mankato Area
Ninguno
Laura Olguín
5 Gyres Institute