As the Refill Revolution grows, we want to make sure you're equipped with everything you need to make a splash about your local Refill Scheme. There are now almost 200 incredible Local Refill Schemes, just like you across the UK and we're seeing more and more schemes wanting to make a splash in their local town or city.  
We know people want to reduce single-use plastic and what better way to cut down than by switching to reusables! A great way to reach people and let them know about the Refill campaign is with a stand at an event, or in a public location where you can talk about Refill.
Why should you have a stand?
Whether this is in a public space like a park or in a local cafe, having a physical stand has a whole range of benefits:
1. Building the brand – having a stand helps get the word out about your scheme and means people start to recognise the logo. Once they've seen you, they're more likely to notice the window sticker out and about and start refilling.  
2. Relationships – having a stand is a great way to get to know and build relationships with people you might not have met otherwise. 
3. Credibility – It's easy to tweet one thing or share another online, but to show up and give your time to a community can have a huge impact. This is how we started Refill here in Bristol. 
4. Conversations – Conversations on social can sometimes be great, but nothing beats having a chat with real people in your community. This is an amazing place to gather feedback and understand the needs of people in your community. It can be hugely energising and will be sure to charge you up for more amazing work. 
5. Fun – As well as being an effective way to engage people, setting up a stand is a whole lot of fun and can be a great way to bond as a team (even if it's just two of you or a smaller group of volunteers). Things may occasionally go wrong or in a different direction. Our motto is simply to go with the flow (unless the flow leads to plastic bottles, avoid that flow).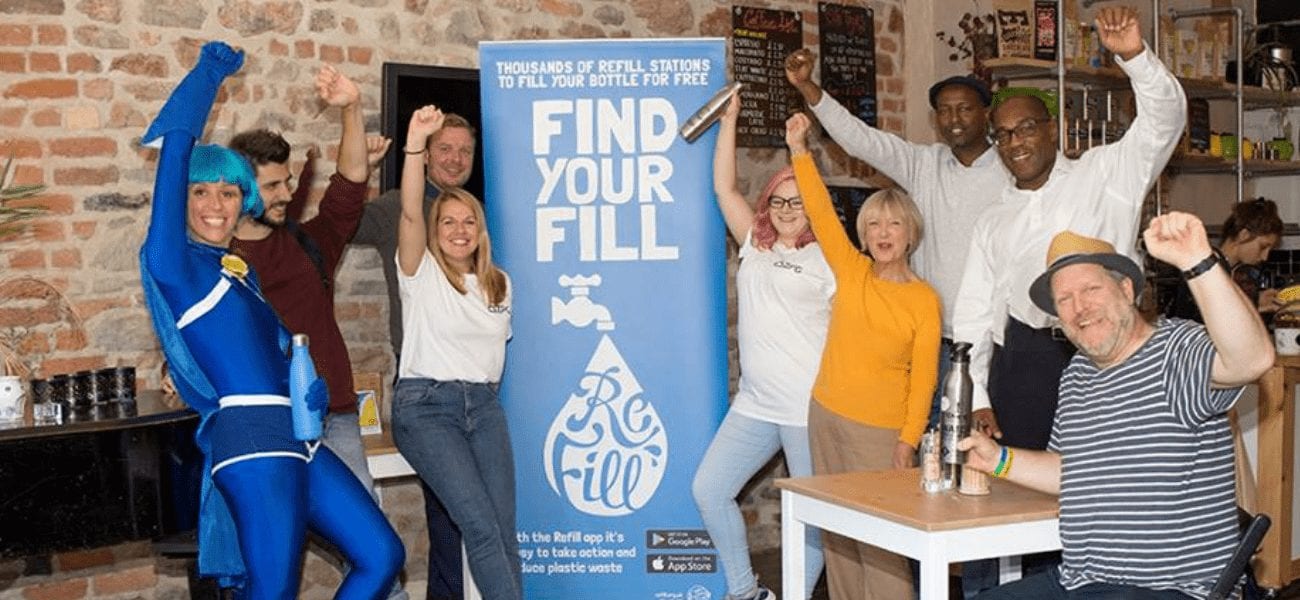 Preparation is key
Before thinking about what your stand could look like and what activities you might create around it, take a step back to prep.
A great place to start is thinking about the most effective place to have a stand.
Local events
Is there a local event or festival you could be part of? Could you set up a stand in your local town centre? Or, will you set up an event stand to use as a focal point for an action day? For all of these, you'll need to make sure you have permission to set up a stand – check who owns the space, it might be your local council or a private landowner.
Action Days
When you have an Action Day, you want to go to places where there are few stations, as the purpose of an Action Day is to sign up new stations in currently unreached areas. However, when setting up a stand, it could be beneficial to set up close to a cluster of Refill Stations. This way, when people leave your stand, they will recognise the stickers in nearby windows. Having this increased awareness of the brand will make them more likely to adopt the new behaviour of refilling.
Engaging businesses
Being close to Refill Stations also gives you a chance to engage businesses in your activity. Go grab a coffee before the day and let them know you're setting up a stand. Make sure their sticker is in the window and if they need any resources like posters or flyers you can make sure they are well stocked. It could be that they're willing to help out on the day by donating coffee or providing decorations for your stand. It's always good to be mindful when approaching businesses, especially if you're asking for something. Think about benefits to them and also remember to accept if they say 'no' and don't pry too much.
Know where your Refill Stations are
Finally, make a note of the surrounding Refill Stations based on the location of your stand. If a punter was to ask someone on your stand where they can go to refill, being able to quickly let them know is always helpful. The more preparation you can do before the day, the better your chances are of it being a success.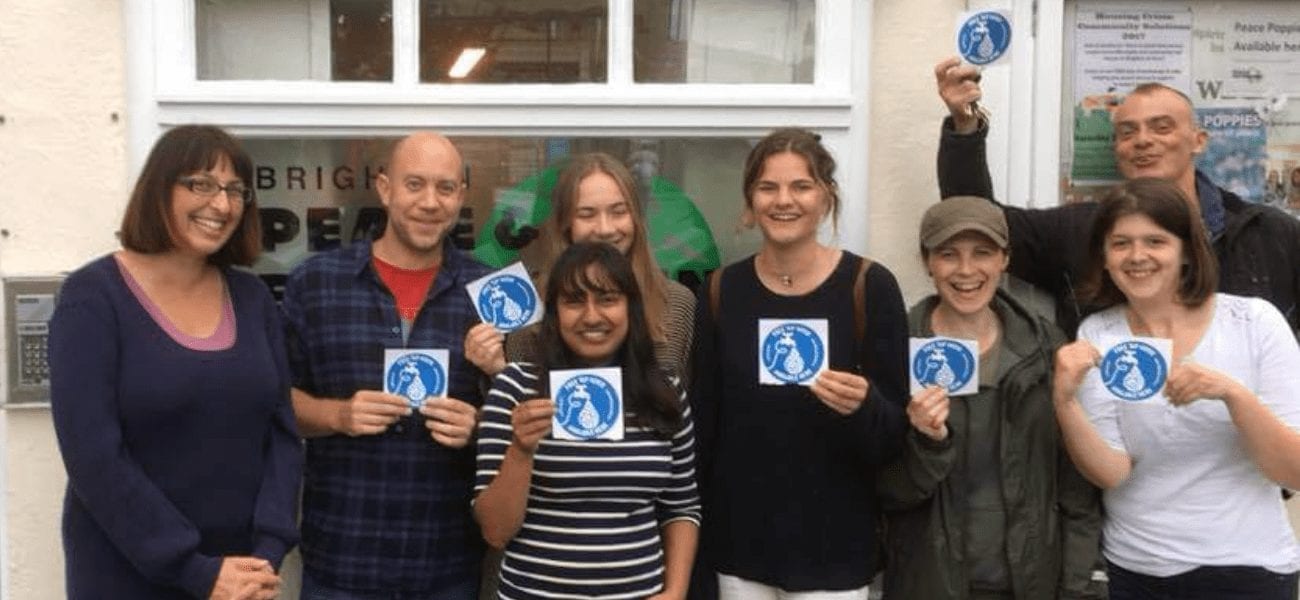 The Devil is in the Detail
It can be easy to get overwhelmed with operational 'to dos' at the last minute. To avoid this, get your ducks (or should we say bottles?) in a row well before you set up your stand.
Who is going to run your stand?
If you're covering a stand for an entire day keep in mind that people will need breaks and may only be able to stay for a few hours. Bring in the strengths of your team and let people do what they do best, whether that's more app and tech-focused or starting conversations with passers-by.
When is your event?
If you're looking at setting up a stand, think about the day of the week that could work. Is it over a lunchtime period in a high footfall area? Maybe it's on the weekend at a local market? Consider what would work best for you and have a look for any other major events that may be happening. You don't want to clash with the football!
What activities can you run?
There are a number of things you can do at a stand on top of having great conversations with your community. From bottle giveaways to musical performances, this is a chance to get creative. Some Refill Schemes have created sculptures or even out of the box window displays and cakes. These physical displays can make for a great central point and also encourage people to take photos, spreading the word on your behalf.
How? 
You may need to speak with your local council or a private landlord depending where you want to set up your stand and if needed have the appropriate insurance. Gov.uk has a helpful resource here on their website and if you're ever unsure about something just reach out to your Regional Coordinator. Does your stand require power or easy access to water? It can be good to create a simple site map showing where these resources can be accessed if available.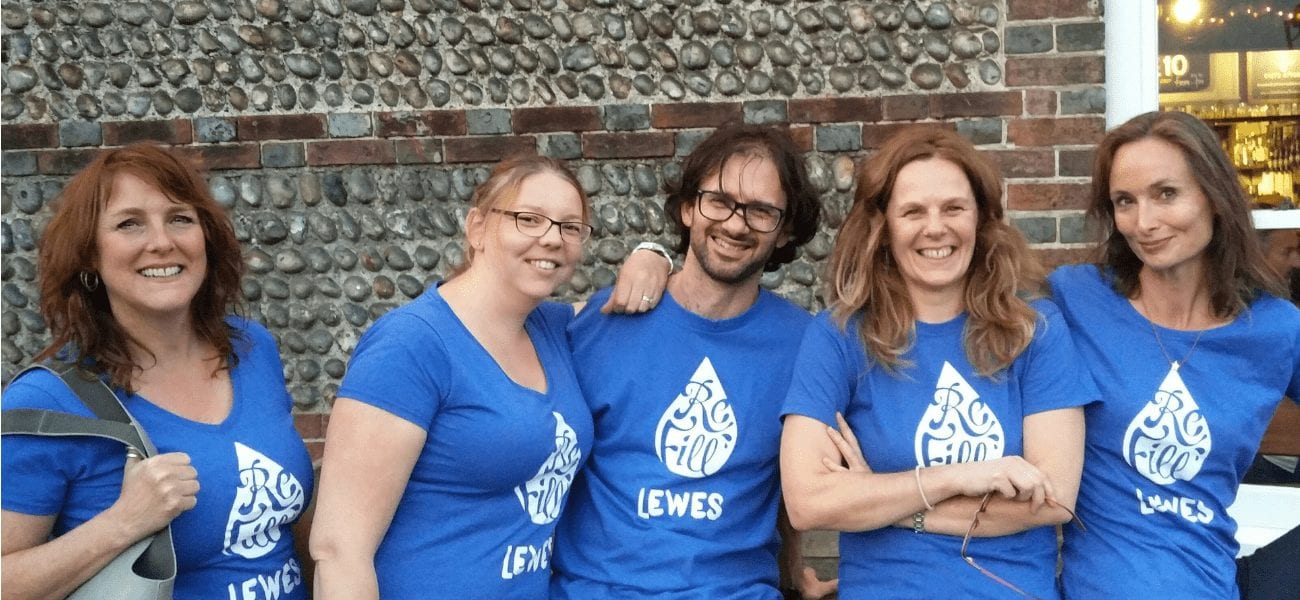 Bring the X-Factor
We want you to be able to make a stand that will sparkle and catch the eye of a passer-by. These four ideas will give you a head start.
Use the Refill branded materials
Whether you set up a pyramid of Chilly's Bottles or print out some of our branded materials. You may even choose to print the Refill droplet logo on t-shirts to look slick and make it easy for people to know who to speak to. When using any signage (for example displaying your scheme name and a one-liner about refill) make sure it's clear and large enough to be read from a distance, as people will walk by and look before coming up to your stand.
Create a focal point
Get creative by making something to draw people in and be part of your stand, like this [LINK] sculpture. If you can set something up in the lead up to your event it will create anticipation and a talking point before you even rock up with your stand.
Blue is the new black
Paint the town red… We mean 'paint the stand blue'! Refill Whitstable decorated their stand with blue sheeting over a trestle, this also provides a great spot to store supplies.
Lords, Ladies and Local celebs
Nothing says launch like a ribbon cutting and who loves a ribbon cutting more than a politician? Invite your local public servants or celebrity figures to help make a splash. Many of our schemes have successfully done this by reaching out. The Refill Whitstable scheme had some help launch from the Lord Mayor of Canterbury.
You've got this…
As you can see from above, there are so many ways to approach making your stand, stand out. You can come at this from all sorts of this angle and we hope this has given you some inspiration and helped get the ideas flowing. If you think we've missed something that's just too good not to be included, give us a message on social media and we're happy to add your contributions.
Good luck with your stand and remember to share your efforts on social by tagging in Refill and using #RefillRevolution.