As one of the oldest trading points in the UK and living in harmony with the surrounding picturesque Norfolk countryside, Norwich's green roots run deep. As such, the Fine City of Norwich was quick to embrace the culture of reuse and the initiative was welcomed by local businesses with open arms.
Refill Norwich – plastic-busting
Launching in autumn 2017 Anglian Water teamed up with environmental not-for-profit City to Sea and local campaigner Matthew White to tackle single use plastic pollution at source by putting the power to act directly into your hands, and launching the plastic-busting Refill campaign in Norwich.
Norwich was one of the first Refill schemes in the country, and it soon became obvious why the city was chosen — the local businesses threw their support behind it wholeheartedly, and there are now about 100 Refill Stations in the city centre.
If you're looking to start a Refill Scheme, we've got a guide to help you get started.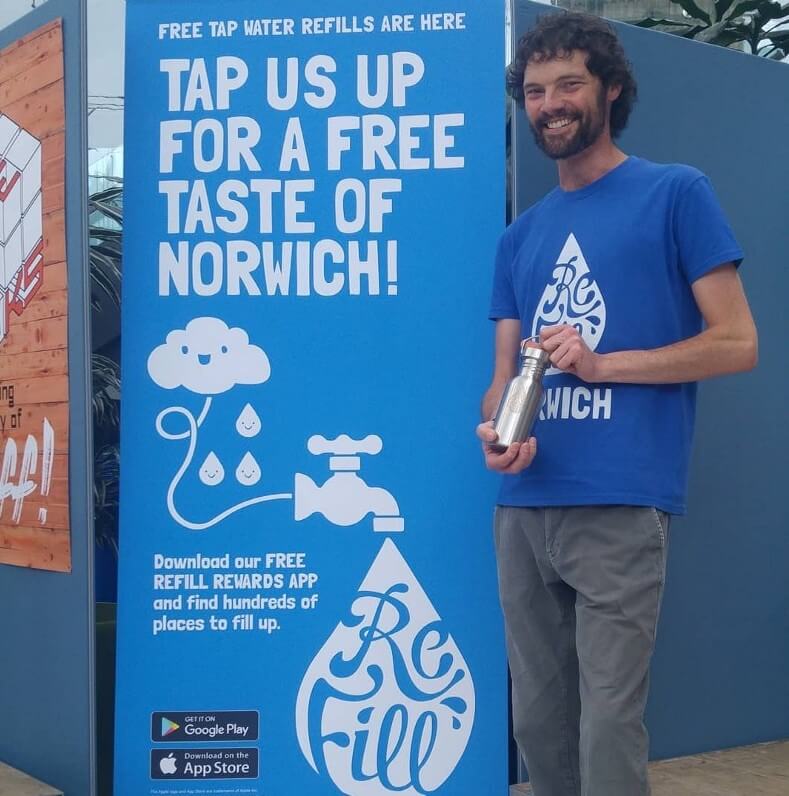 A taste of Norwich's taps 
With a castle, 2 cathedrals, one of the UK's largest outdoor markets, a burgeoning arts and music scene, and a fascinating history, Norwich has a huge amount to offer for its modest size. The city is full of character and charm, and teeming with wonderful green spaces.
Refill Norwich is run by local sustainability consultant Matthew White. Its main sponsor is Anglian Water, and it has also received great support from Norwich City Council.
Getting involved is easy! 
If you've got a great idea about getting involved in your local scheme, or you want to set up your own Refill Scheme, we'd love to have you on board.