Committed and Passionate about preventing plastic
We are the Northern Ireland Refill delivery partner and a team of four, combining committed and passionate workers and volunteers, to try prevent one of the largest poster child sources of consumer waste in N.Ireland…. the single-use plastic water bottle! We also run the Southern Ireland Refill.ie project. We work with local authorities, businesses, schools and student organizations to help grow our network of 280+ existing free drinking water stations in Northern Ireland, and we actively encourage their use through the Refill UK App in place of single-use plastic bottles. We also operate a Waste Free Events Service where we provide the drinking water and reusable cups (which we wash after use to prevent the need for single-use plastic bottles) at fun runs, marathons and large public events.
In addition, we install free-to-use Community Hydration Hubs in a program to provide free self serve drinking water dispensers to willing and suitable private businesses to increase safe access for water refills while out and about!
If you're looking to start a Refill Scheme, we've got a guide to help you get started.
Why is Refill so important in Northern Ireland?
Ireland is one of the worst offenders in Europe when it comes to plastic waste per capita. We also lack the home facilities needed to recycle much of the plastic and as a result, it is shipped abroad where 3-7% alone is often lost at sea on the journey.
Northern Ireland want to be leaders and show that circular economy based principles can and will work at scale once the infrastructure is there. The Scheme will do this by encouraging more environmental initiatives. With the growing awareness of the harm plastic is causing to the marine environment, and to human health, it is vital that as a Scheme, we tackle this issue locally as one part of the Refill international network.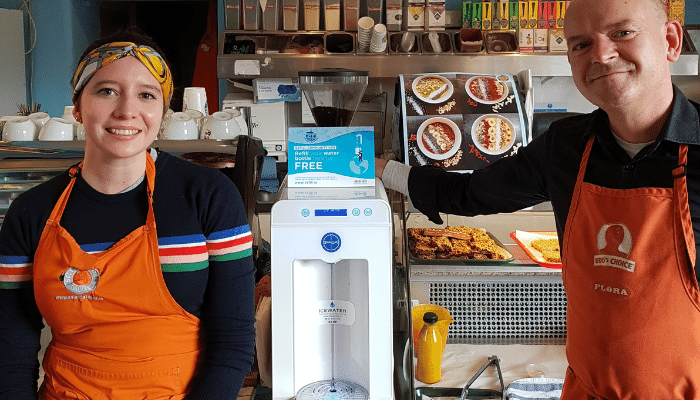 There are two simple ways to get involved. If you are a business you can upload your location using the UK phone app at Refill.org.uk, or you can contact us to find out more about volunteering by emailing [email protected].
You can also visit the Refill Northern Ireland website for more information. We look forward to hearing from you!