Ecover joins forces with City to Sea to power the Refill Revolution
We're thrilled to welcome Ecover to the City to Sea family as our new Refill App Sponsor. Like us, Ecover is passionate about all things refill and reuse, and have paved the way for instore refills since the early 1990s.
The original refill pioneer, Ecover wants to change the game and inspire a REFILLUTION. So, we're joining forces to make refilling all kinds of products – from cleaning products to your morning coffee – a lot more accessible no matter where you are in the UK.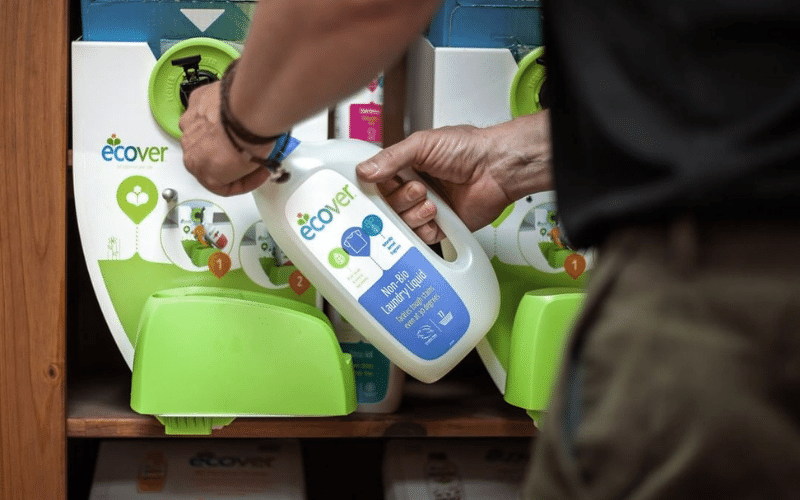 Use the Refill app to find Ecover refills near you
There are now more than 650 Refill Stations across the UK where you can get your fill of Ecover products. Whether you're running low on washing-up liquid, need to do some laundry, or just give your kitchen a good scrub, you can find refills of all these Ecover products and more by searching for your nearest Ecover refill store on the free Refill app. So grab your empty bottles and get refilling – keeping both your home and the planet happy!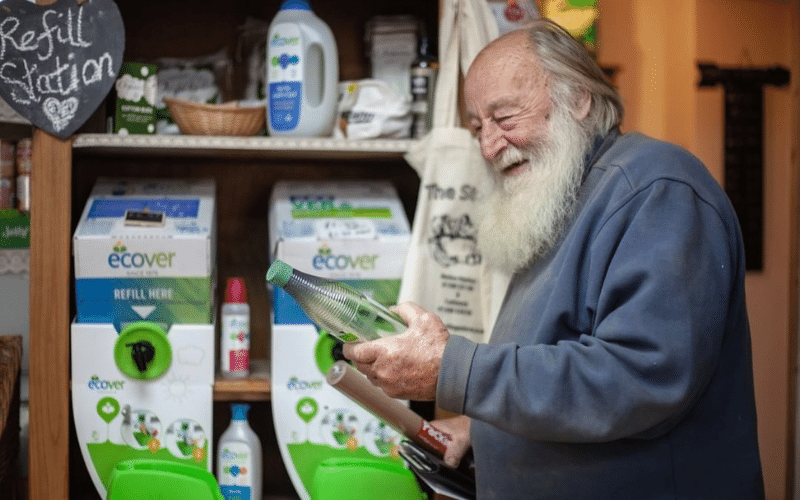 Cleaner home, greener home…
Founded 40 years ago, Ecover was one of the first to put phosphate-free washing powder on the market – a product which was only banned as recently as 2013 due to the harm caused to aquatic life. With a pioneering spirit, experience and clever science, Ecover has developed a super range of washing and cleaning products with biodegradable, plant-based ingredients in bottles made from post-consumer recycled plastic bottles (that can be reused and refilled again and again!). They help consumers clean their homes with great efficiency with minimal impact on our environment – which gets a BIG thumbs up from us! And what's more, all Ecover products are made in their zero waste certified factory!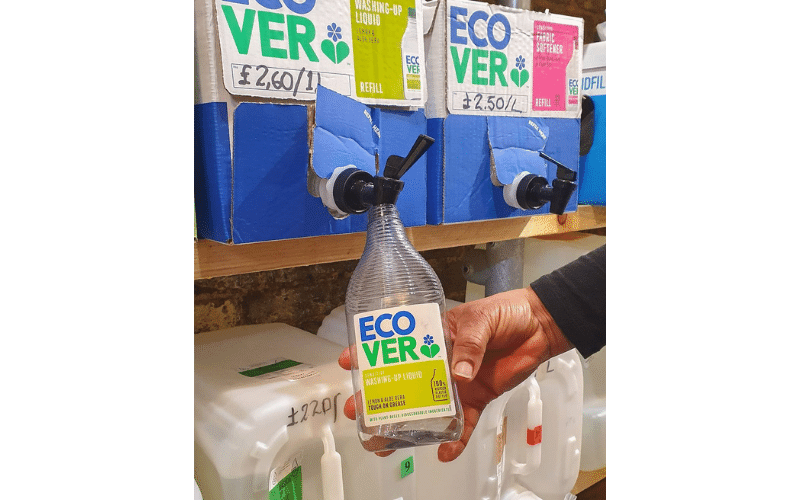 Photo Credit: La Amazonas Organic Store
Save plastic AND CO2 with every Ecover refill
Did you know, if every Ecover household used their local Refill Station to top up their products we'd save the equivalent of the weight of over 51 London buses in plastic?! And not only that, but we'd save enough CO2 emissions to power a hot air balloon for over 5 months non-stop!! (based on sales data in the 12 months to June 2020) At City to Sea we know the power of individuals coming together to make real change. And together with our friends at Ecover, we want to make it even easier for people to refill and reuse in all areas of life. The Refill Revolution starts at home – and it's never been easier to get your fill of top notch household products, keep your house spick and span, and say NO to single-use plastic at the same time!
"Having been a life-long Ecover customer, I'm beyond thrilled to welcome them on board as a City to Sea partner and Refill App Sponsor. As a leader in sustainability and one of the first companies to offer refills of their products, we're excited to champion their 650+ refill stations and direct more of our community of refillers towards a life with less plastic".
"At Ecover we believe re-use is the new recycling. It's redefining the ambition for a true circular economy. We have set ourselves the challenge to make re-use the new standard for everyday shopping behaviour. As we develop and implement new solutions to make re-use more accessible, we also need a strong community to drive the change in behaviour. Which is why we're delighted to work with City to Sea, who have an impressive track record in community campaigning, in a year-long partnership to drive refill behaviour and help grow the refill movement".