Creating a Wave of Change in Bournemouth, Christchurch & Poole
We kicked Plastic Free July off in style down on the South Coast with the beachside launch of the Turning the Tide campaign. A joint project between City to Sea, the organisation behind the Refill campaign, and Bournemouth, Christchurch and Poole Council. This exciting and innovative campaign is transforming the seafront and 15 miles of beaches to develop a first of its kind, low impact tourist destination and tackle the problem of plastic pollution in the area.
One of the UK's most popular stretches of coast, the Bournemouth, Christchurch and Poole area is home to around 400,000 residents and welcomes 13 million visitors each year. And plastic pollution is a BIG problem there – BCP Council currently spends £1 million per year removing waste from its beaches!
So, BCP Council has partnered with behaviour change experts City to Sea to develop an exciting and ambitious 3-year project that will transform the area, helping them to turn the tide on plastic pollution and keep the streets and beaches free from litter.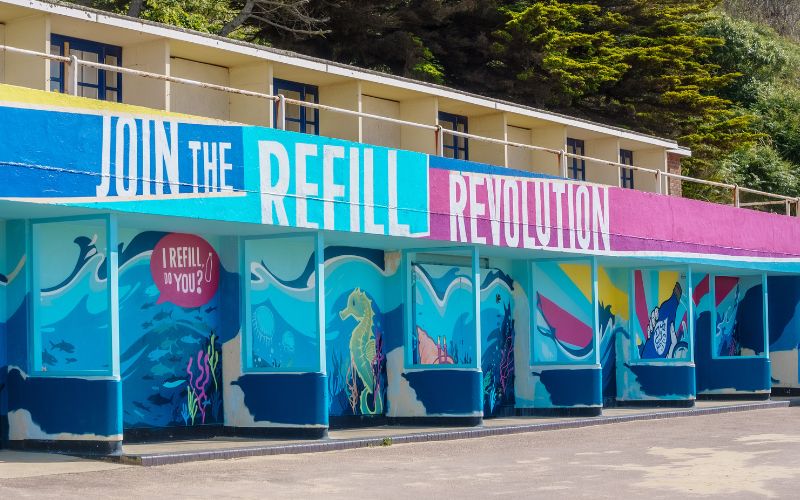 Refill Revolutionising the South Coast
Research by City to Sea found that more than two out three (72%) residents living in Bournemouth, Christchurch and Poole tended to buy more single-use plastic water bottles when visiting the beach. One of the main reasons given by nearly one in three (31%) respondents was that they couldn't find or didn't know where the nearest tap was.
The solution? The Refill Revolution of course!
We estimate that if just 1 in 10 residents of Bournemouth, Christchurch and Poole refilled a water bottle just once a week, over a million plastic bottles a year would be saved! Which means less of them in circulation – and less ending up on the beach.
So, the seafront at BCP has now been totally Refill Revolutionised, with 150 places to refill water bottles added to the Refill app, and their locations signposted with bright, fun and eye-catching Refill branded signs so that visitors and residents never need to buy single-use plastic bottles at the beach again. Hooray!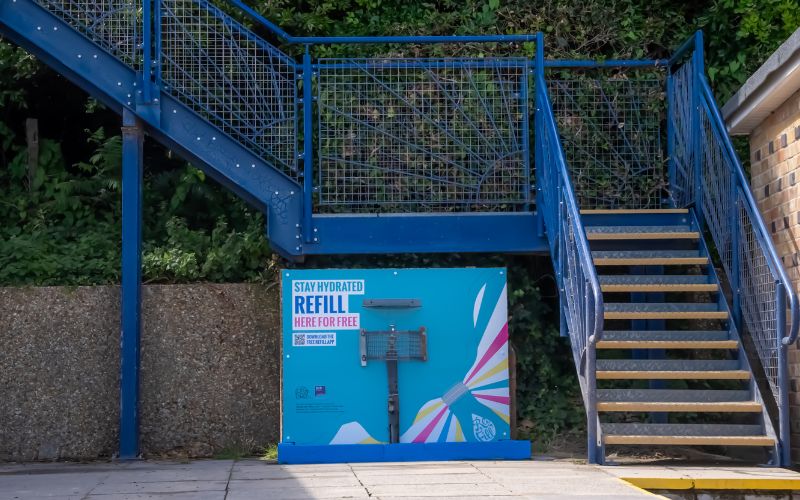 From existing taps to new branded Hydration Stations to seafront kiosks, visitors can find all 150 waterfront locations on the Refill app – bringing the total amount of Refill Stations in the BCP area up to 250!
This includes 15 "Hydration Stations" along the 15 miles of waterfront featuring cool, bold eye-catching artwork that has been tailored to different audiences. Get your fill at the interactive, superhero branded Hydration Station near Happy Land Arcade where movement triggered audio messaging means a superhero voice will congratulate you for refilling!
It's not just beachfront taps and kiosks offering visitors 24/7 'Tappy Hour', local businesses are also providing free drinking water with high street names such as Costa Coffee, Starbucks and McDonalds all listed as Refill Stations on the Refill app.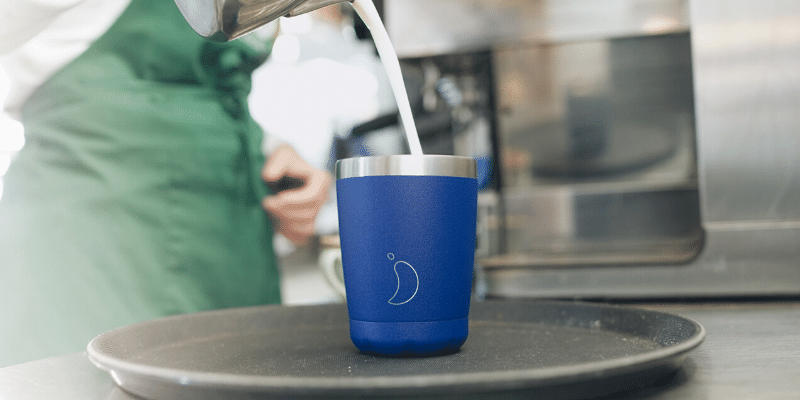 The Refill Revolution doesn't stop at drinking water… the campaign at BCP also looks to reduce the use of single-use coffee cups. With an estimated 2.5 billion single-use coffee cups used in Britain a year and only one in 400 cups recycled, they are one of the worst offenders when it comes to plastic pollution found on beaches – and BCP beaches are no exception.
To change this, all of the 18 BCP owned kiosks offering free tap-water are also offering significant discounts to anyone who brings their own reusable coffee cup. And two BCP cafes are going a step further and trialling removing single-use coffee cups entirely!
Championing an innovative new deposit return scheme, the Sand Piper Café (West Beach) and the Fisherman Walk (Southbourne) will instead be offering customers hot drinks in "returnable and reusable" cups. The introduction of this new refill and reuse infrastructure means customers pay a £1 deposit that is then refunded to them when they return the cup – either at the same café or the other one on the scheme. And the best bit is that these borrow and return options can now be found on the app, where you can log your cup out when you borrow it and log your return when you drop it off. Your morning coffee ritual just got a whole lot more exciting!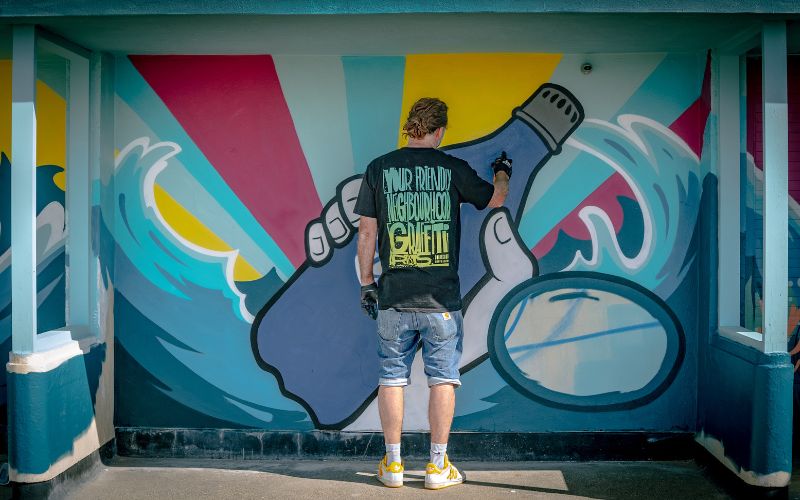 The Turning the Tide launch was marked by the unveiling of an incredible Refill Revolution street art mural transforming the Lifeguard Corps Building along from Durley Chine.
The stunning artwork by renowned graffiti artist Rick Walker encourages passers-by to "Join the Refill Revolution" and features an engaging ocean scene full of sea life and animals, connecting people's actions to our oceans, as well as a selfie area where beach-goers can show their support for refilling and proudly tell the world they choose to reuse!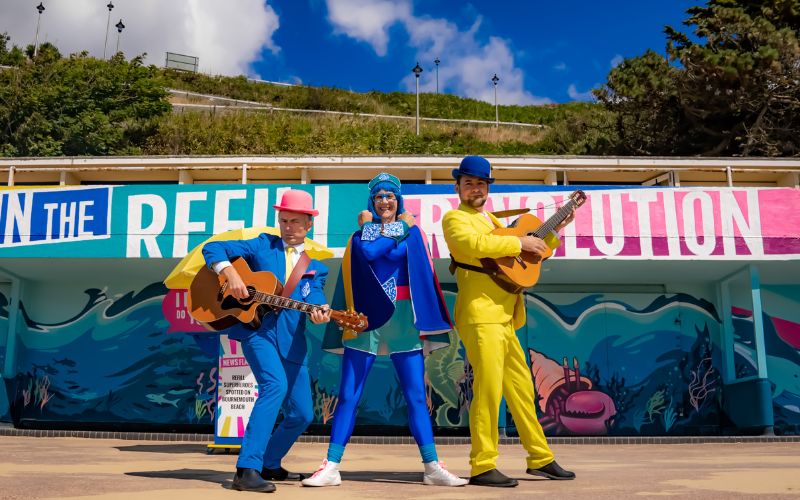 Throughout Plastic Free July, visitors to Bournemouth beach are being treated to a series of engaging events, performances, and art installations. Every Saturday there will be performers from the incredible Bakehouse Factory theatrical agency taking to the beach front to engage beach goers with the Refill campaign and encouraging them to refill rather than buying bottled water.
Keep your eyes peeled for newspaper sellers shouting "Refill all about it" offering "punters" a bit of banter next to water fountains, and the musical performers, "The Refreshers" who'll be serenading beach visitors with Refill-themed songs written especially for the campaign, as well the "Refill Superheroes" who'll be teaching people "How to Become a Refill Superhero".
There's more to come from the Refill Revolution in Bournemouth, Christchurch and Poole – watch this space for exciting news coming soon!