REDUCE, REUSE, REFILL, REPEAT.
Put Friday, 16 June 2023 in your calendar as
World Refill Day

returns for its third year!
World Refill Day is a global day of action to prevent plastic pollution and help people live with less waste. This year we're reimagining the future and working to accelerate the transition away from single-use plastic and towards a circular future where reuse & refill are the norm.
Together with our partners and supporters around the world, we're building a global movement, inspiring action and demonstrating that the world is ready for a refill and reuse revolution. 
Last year's World Refill Day had its biggest impact to date, with more than 80 countries participating, over 400 organisations signing our open letter to the biggest plastic polluters, 400+ pieces of media coverage (reaching an estimated 1 billion people) and 100 million people reached via the hashtag #WorldRefillDay.
Building on those successes, 2023 will include the launch of the first ever Global Reuse Summit – free digital event which will bring together change-makers, business leaders, policy makers and innovators to learn, share and be inspired. Watch this space for more info and your FREE ticket.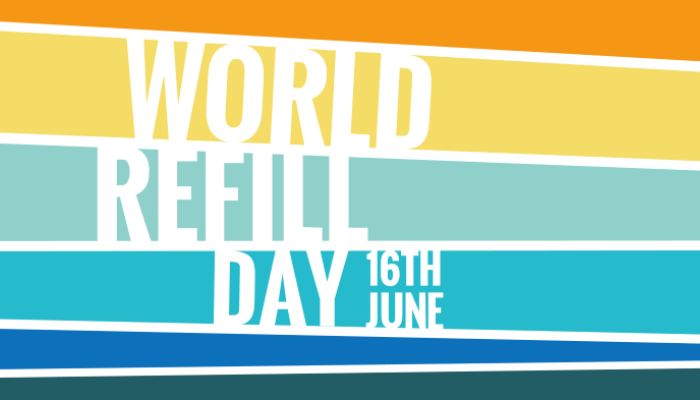 Whether this will be your first World Refill Day or you've participated in previous years, here are some things you can do right now to prepare for 16 June:
Find out how to get involved. Whether you're a brand or business, a campaigner, a community group or an everyday activist there a so many ways you can take action this World Refill Day.
Choose to reuse: Start thinking about what your small change is going to be as we start ramping up our call to switch from single-use plastic to reuse. Check out our top tips for getting started.
Find places to refill: Download the free Refill appto find thousands of places around the world to eat, drink and shop with less waste.
Become a partner: Email us to find out how you can get involved as an official partner for World Refill Day.
As we prepare for the best World Refill Day yet, we'll continue to share news, resources and tips here on the Refill blog and across our social channels. Sign up to the Refill newsletter to stay up to date and if you'd like to collaborate with us, get in touch.